Heroes: New Battlefield of Eternity map video revealed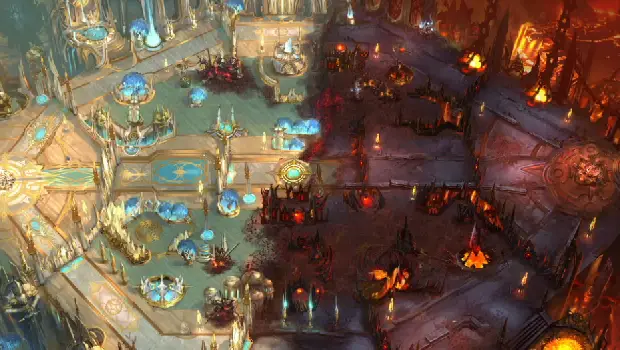 Today the PTR for Heroes of the Storm is going live for the first time and with it comes a much anticipated feature to the game: a new map. As part of the Eternal Conflict Diablo-themed rollout, Blizzard is introducing a new Heaven and Hell inspired map called the Battlefield of Eternity. And with it comes new mechanics, new mercenaries, and new objectives.
The new video released by Blizzard this afternoon (find it below) gives an overview of what they announced at their recent Mayhem Begins live event. The TL;DR version is that two golem-style beings (an angel and a demon) fight endlessly in the middle of the two-lane map. You defend yours while defeating the other.
The one that survives then attacks the most well-defended lane on your opponent's side of the map. Replacing the Siege Giants are Impalers, that also do ranged damage, but single-target based and more powerful; and replacing the knights are Fallen Shaman who can resurrect their hounds when they die to keep up the laning pressure.
The new map is expected to hit the live servers next Tuesday, June 30th, along with The Butcher. You can get an early look at it on the PTR.