Method posts World First Mythic Archimonde kill video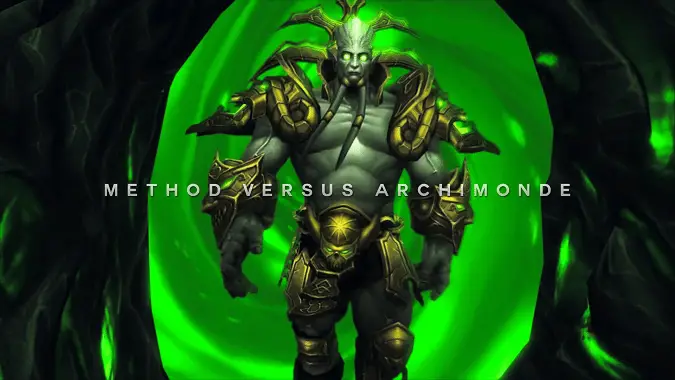 Method has just published their official video of their world-first kill of Mythic Archimonde, the final and most difficult encounter in Warlords of Draenor (having taken Method a record 472 pulls to finally beat). What I found particularly enjoyable about the video was the cinematic feel Method gave it. The first minute of the video is dedicated to highlighting bosses found throughout Hellfire Citadel, culminating in the on-screen arrival of Gul'dan and Archimonde himself. The fight itself alternates between multiple points of view, so viewers really get to see the encounter from all angles. And, of course, one of the big draws to seeing the video is also getting a glimpse at the Mythic-only mechanics and phase that have been added.
The first noticeable difference comes with Wrought Chaos and Focused Chaos, the fight's (normally) two-at-a-time laser mechanic. In Mythic, it looks as though everyone in the raid gets marked, resulting in an almost comically absurd amount of lasers firing off between raid members all at once. The second noticeable difference comes in the form of the much-anticipated Mythic-only phase, which technically starts when Archimonde reaches 40% health (only to heal himself back up to 50% when the phase begins). At this point, the remainder of the encounter takes place in the Twisting Nether. There are two mechanics in this phase which appear to be notable. The first is Source of Chaos, a crystal that shoots a laser through the tank which also produces a knockback effect. The raid must DPS down the crystal as quickly as possible to rescue the tank from certain doom. The second is Seething Corruption, which causes different portions of the room to erupt, forcing the raid to position on specific sides of the platform. With these abilities accompanying a multitude of other mechanics, it's no wonder Mythic Archimonde has been so difficult to defeat.
Congratulations once again to Method on your world-first kill! The full video can be seen below (includes brief NSFW language and, of course, nerd screams):
(And for those wondering, though Archimonde is killed in the Twisting Nether, there is no Mythic-specific cinematic to indicate one way or another if he's been defeated permanently.)