Hearthstone's The Grand Tournament pre-purchase now available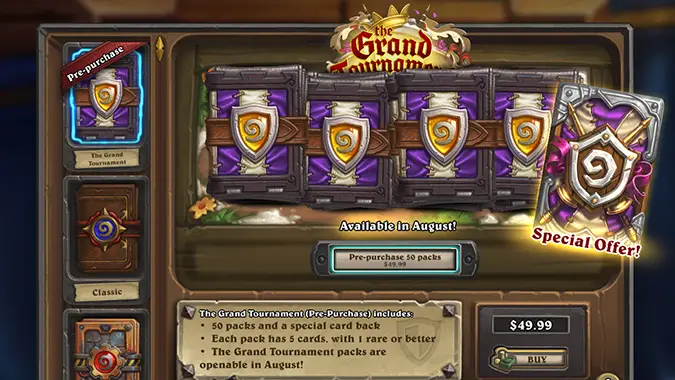 With the latest Hearthstone patch, players can now pre-purchase 50 packs from The Grand Tournament. Note that the offer at this price is one-time only. You can still purchase subsequent packs at normal prices or with gold. If you pre-purchase now, you'll get 50 card packs and a special card back. Check out our Grand Tournament spoiler list, and both my thoughts and Alex's thoughts on a few of the revealed cards.
Normally, Hearthstone booster packs are $49.99 for 40 packs. With an offer like this, you're getting an extra 10 bonus packs for the same price. It does seem like the offer is only good until the Grand Tournament goes live. The packs can be opened when The Grand Tournament goes live later in August. If you happen to have any Amazon Coins banked from the earlier Amazon Prime Day sale, this would be a great time to use them.