New World of Warcraft expansion to be revealed August 6 at Gamescom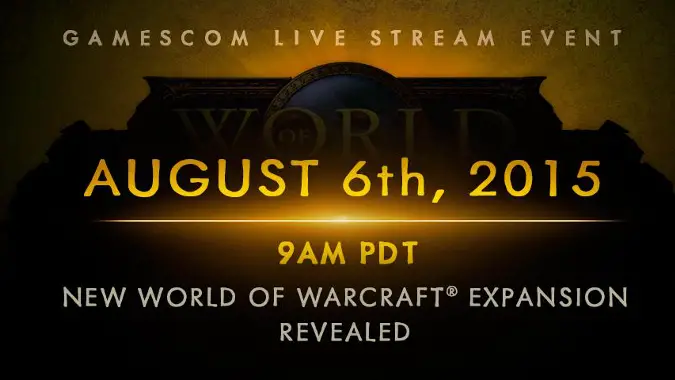 Rumors Blizzard may unveil a new World of Warcraft expansion at Gamescom have been flying — and Blizzard Entertainment just confirmed those rumors via Twitter. Here at Blizzard Watch, we've suspected this may be the case for some time now. If Blizzard had any intention of holding to its repeated statements of aiming for a more rapid expansion release schedule, waiting for BlizzCon would be far too long — especially if they didn't want a repeat of prior expansions, where the final patch remained stagnant for 10-14 months.
You won't want to miss our #gamescom live stream next week. Watch it at: http://t.co/EejHEemtIU #BlizzGC2015 pic.twitter.com/awhHQik91P

— World of Warcraft (@Warcraft) July 29, 2015
Considering the Hearthstone expansion had weeks of hype and teasers prior to its official reveal, some players remained skeptical about a Gamescom announcement — but certainly, outright saying there would be an expansion announcement is a direct way to generate that hype. Though, in recent weeks, we've seen countless leaks of dubious validity regarding the next expansion, as we always do leading up to a new announcement. The usual Emerald Dream theory had reared its ugly head again, as well as mentions of Azshara, Warcraft-movie tie-ins, and so many other similar claims. Just over one week from today, we'll know for sure.