Three new heroes and a new map coming to Heroes of the Storm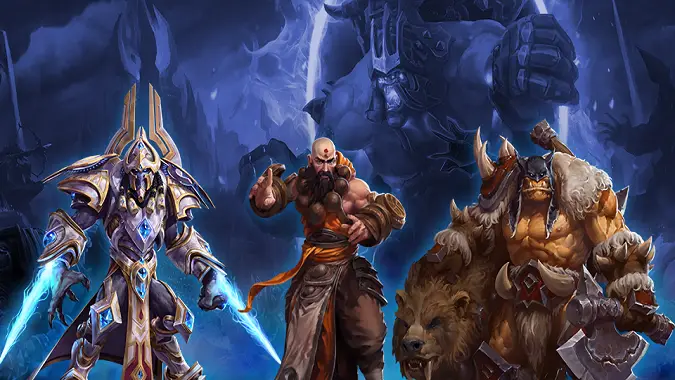 Blizzard's presence at Gamescom is in full swing, with three new heroes and a new map coming to Heroes of the Storm, including Diablo's Kharazim the Monk, Warcraft's Rexxar, and StarCraft's Artanis. And, if that's not enough, we expect to hear even more about Heroes on Friday, including another hero reveal. But for now, let's jump in and see just what Blizzard has to show us, shall we?
We knew that Diablo 3's Monk class was coming to Heroes of the Storm as part of the game's Eternal Conflict content. However, while this new hero was announced alongside Leoric at E3 we haven't seen much of him until now, with a new gameplay trailer giving us our first glimpse of this new Support hero in action. Like the other Diablo 3 class heroes, the Monk has a unique name and identity: Kharazim. And, while we still don't have a release date for him, we're betting he'll arrive soon.
NEW HERO – Rexxar: the half-ogre, half-orc beastmaster will soon join the hunt in the Nexus! pic.twitter.com/juGTlYBOkF

— Heroes of the Storm (@BlizzHeroes) August 5, 2015
In addition to Kharazim, we have teasers for two new heroes: Warcraft's Rexxar, a ranged Warrior who will fight alongside his bear Misha, and StarCraft's Artanis, the first Warrior from the StarCraft franchise. Of these two, Rexxar looks nearest to completion, with screenshots of him in action, while Artanis only has concept art so far. Both Kharazim and Rexxar are playable at Gamescom, and we already have reports of their skillsets — though as with all content in development, this could change.
As if three new heroes aren't enough, there's also a new map heading to the game. Infernal Shrines will be a second Eternal Conflict map with a Diablo theme and we have a teaser trailer showing an overview of the new map in play — so get ready to break out your Novazons, Johannas, and Tyraels, because there are demons to be slain. (Unless you're playing for the other side, in which case we wish your Diablos and Butchers luck against the angelic menace.)
Not enough Heroes of the Storm for you? We still expect more from Blizzard, specifically on Heroes, this Friday at 9AM PDT/ 12PM EDT. Until then, check out Blizzard's official preview of these new features.