Breakfast Topic: New Darkmoon Faire games?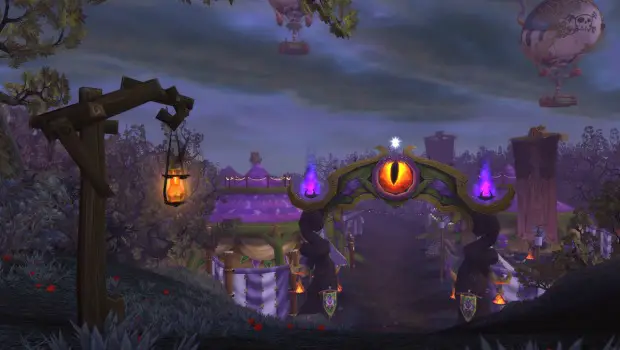 There are lots of questions circling around the lead features of the Legion expansion that the community is dying to know. Exactly how are those super cool artifact weapons are going to work with alts? How are those brand new PVP talents are going to work? And, of course, everyone is clamoring to know whether rogues really have to wade around in poo in the Dalaran Sewers all expansion. However, as excited as we are for these headline items, the development team is packed with talented people, and not everyone works on the big, splashy things featured in the expansion reveal. One such developer is Jeremy Feasel, who took to twitter last week with an interesting question.
There are three tents still marked as Under Construction at the Darkmoon Faire. What mini-games would you put there?

— Muffinus (@Muffinus) August 3, 2015
He noted in a later tweet that two of those three tents are already spoken for, confirming that new games are definitely coming in Legion.
Playing dev for the day, something I'd maybe like to see is a game similar to the Simon game in Blade's Edge, only using the timbre of a calliope for each colored quadrant to better fit the Darkmoon Faire's creepy ambiance. I'd guess that maybe something similar to the Lucky Dip would be relatively easy to code with their existing RNG tech, but that might be less than fun, considering how much that RNG permeates the rest of the game. A more simplistic racing game would also be welcome. The new one with all the different vehicles is fun, but laying down some silver on the odds of a Faire-themed pet of my choice and watching them have a short race was always one of my favorites.
So, what new game would you like to see at the Darkmoon Faire?