The Grand Tournament showcases new Legendary cards Rhonin and Varian Wrynn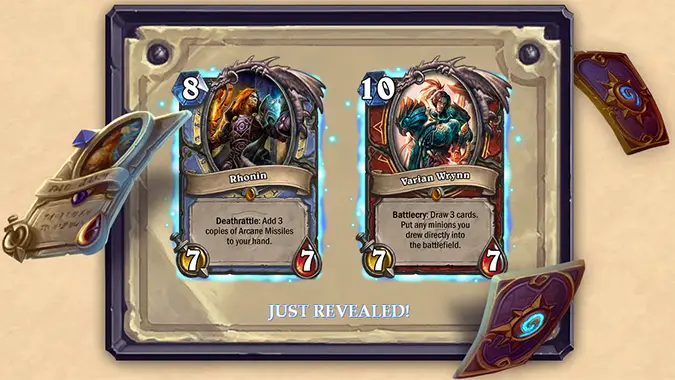 An extra pair of Legendary Hearthstone cards have just been revealed today. Keystone lore figures Rhonin and Varian Wrynn will be playable in the upcoming Grand Tournament expansion. Some additional neutral and class cards were also displayed throughout the day that might revive old deck types, or spawn new ones.
Let's talk about Varian. He's one of the new Warrior Legendary cards, and he'll exhaust your supply of mana crystals if you choose to play him. He's worth it though if you happen to draw any minions. Even so, paying 10 mana for a 7/7 and drawing 3 cards is pretty darn nice even if they're all spells. Keep in mind that any minions that are played as a direct result of Varian's Battlecry won't have their Battlecry triggered if they enter play. In addition, if your side of the board is already full of minions (like Grim Patrons), those minions will go straight to your hand. Lastly, Community Manager Whirthun clarifies the interaction with Varian and Chromaggus:
.@TheGamerDUDE911 Any card put into your hand by Varian while Chromaggus is on the board produces a second copy.

— Whirthun (@CM_Whirthun) August 12, 2015
.@Agonumyr @Punted You would not get copies of minions Varian puts directly on to the board. You would get copies of what he puts in hand.

— Whirthun (@CM_Whirthun) August 12, 2015
The other Legendary card that was revealed is renowned Mage figure Rhonin. When Rhonin's Deathrattle effect is activate, you get 3 copies of Arcane Missiles right into your hand. I'm not entirely impressed at the moment, but it does ensure that if Rhonin dies, you get some extra spells in your hand that can wreak havoc on the board, or deal 9 damage to your opponent if they don't happen to have any minions up.
Over on the OGN stream, Icehowl is a badass 10/10 minion with charge. The downside is that he won't be able to charge into opposing heroes. I mean, he's great at going head to head against other minions and removing them from play but he doesn't seem to be much fun if he can't be directed at the opponent. Can't see him making a huge impact, sadly.
Another warrior card, the Sea Reaver, exhibits certain similarities to the Flame Leviathan. However, the Reaver will only damage your minions. Sounds like a great activator akin to Whirlwind, but you don't get the ability to control when the Reaver is triggered since it activates the moment you draw the Reaver. Even then, the timing might not even be advantageous for you.
Light's Champion is another card that was shown by Blizzard Taiwan. This bad boy comes in as a 4/3 minion that costs 3 mana, and it can silence a demon when it enters play. Yeah, Dreadsteed had a good run, but Light's Champion will counter it directly.
Hunters receive an additional beast-centric card that was displayed by prominent player and streamer Lifecoach. The Ram Wrangler is a rare minion that can summon a random beast if you already have a beast in play. There's some potential here to bring back the old Hunter beast deck which was dominant early on in Hearthstone classic, featuring the pre-nerf Starving Buzzard, Timber Wolf, and other beast cards. Imagine playing the Wrangler, and out comes a King Krush though.