New Heroes Infernal Shrines battleground and map rotation arriving tomorrow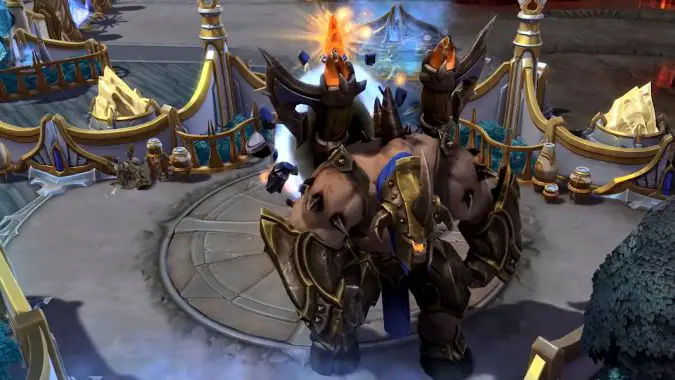 Blizzard announced today that the latest Eternal Conflict Diablo-style map, Infernal Shrines, will go live on Heroes of the Storm servers tomorrow. This one is designed a bit differently than previous maps. Working the map mechanic releases a golem that goes after enemy heroes instead of enemy defenses. I've played on it on the PTR and the game can snowball quickly if one side gets control of the golem again and again. So make sure your whole team is at the shrine when it activates and be ready for some vicious team fights.
In addition, Blizzard is also limiting the number of maps available to six so you'll have a better chance of playing on Infernal Shrines. This is only going to happen for a week. If you really miss Haunted Mines in that time, you can always start a custom game for it along with the other two benched maps Garden of Terror and Blackheart's Bay. Full announcement below.
We're planning to make our newest Battleground, Infernal Shrines, available for play in all game modes starting on Wednesday, August 26. At that time, we're also going to temporarily reduce the size of our normal Battleground pool for one week in order to increase the chances that you'll be able to play on Infernal Shrines when you queue for matchmaking. The six Battlegrounds we've selected for this rotation are listed below.
Battleground Rotation: August 26 – September 2
Infernal Shrines
Battlefield of Eternity
Cursed Hollow
Dragon Shire
Sky Temple
Tomb of the Spider Queen
While Blackheart's Bay, Haunted Mines, and Garden of Terror will not be available in matchmaking game modes during this time, you can still play on them using Custom Games. We'll let you know once Infernal Shrines and the temporary Battleground Rotation have been enabled.
Thank you!