Breakfast Topic: What is your flying mount of choice in Draenor?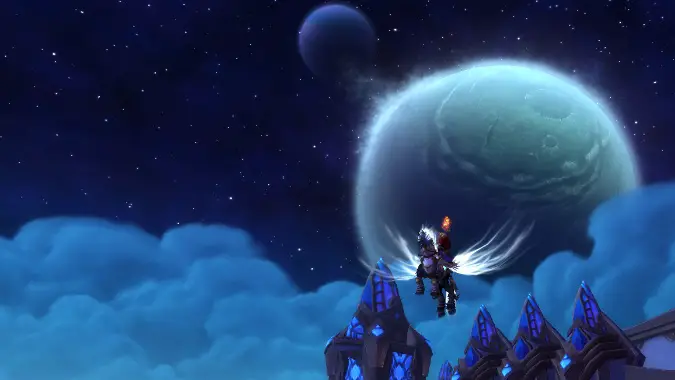 The day has finally arrived: we can fly in Draenor. But that brings us immediately to an all-new conundrum. Just which flying mount should we soar the skies with? And is it even possible to pick just one?
I've long favored the Disc of the Red Flying Cloud as my flying mount of choice because its small size makes it less of a nuisance in crowded areas — though I've used it very little in the expansion to date because I think it looks dumb on the ground. I'm also a fan of Heart of the Nightwing for the same reasons (plus it just looks cool). There's even a new mount to choose from in the Heavenly Azure Cloud Serpent (a reward for collecting 300 mounts), though it's perhaps a bit too Pandaria-themed to want to fly it over Draenor.
For my part, if I weren't worried about its bulky size stomping all over questgivers, shopkeepers, and other players whenever I landed, my mount of choice for Draenor would probably be the Enchanted Fey Dragon. These are already soaring the skies of Draenor (at least on certain flight paths), but with patch 6.2.2 we can finally tell them just where to go.
But what about you? Will you be picking a specific mount for Draenor, choosing something at random, or have you just not made up your mind yet?