Ghostcrawler's famous Paladin joke lives on in game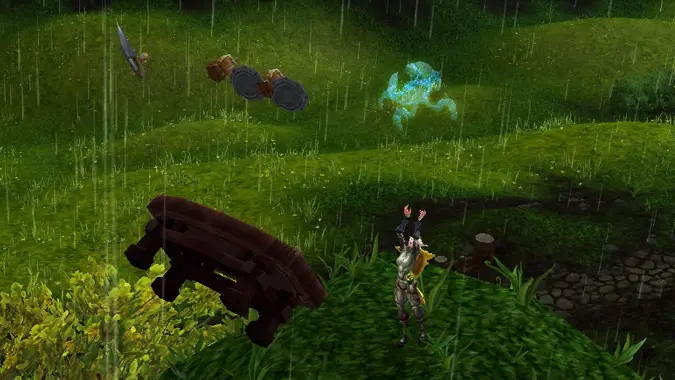 Ghostcrawler apparently left us quite a clever Easter Egg in game before he exited Blizzard, though it took 3 years before anyone found it. Mentioned by none other than Celestalon, Ghostcrawler's spiritual successor, it involves the long-standing joke regarding Ghostcrawler's (supposed) grudge against Paladins. Even after he's gone, he's still teasing them.
@OccupyGStreet Hey Greg! After nearly 3yr since it was put in, a certain Easter Egg has been figured out. ;)

cc: @TheRyanMeier

— Celestalon🎁🌙 #ABetterABK💙 (@Celestalon) September 10, 2015
The trick is easy enough to spawn, but the conditions were so specific that I'm not terribly surprised that it has only now come to light. All it takes is a Paladin, the Flippable Table, and a little RNG. When the Paladin spawns the table to flip in a fit of anger, a little ghostcrab will sometimes appear on the table and fly off with the rest of its contents. Solsacra figured it out soon enough after Celestalon revealed its existence on Twitter, and he posted a screenshot in response.
I found a well hidden easter egg for Ret pallys (thanks to a certain celestial dragon)!… Whats that on the table? pic.twitter.com/Jz21o8ZWHg

— Solsacra (@Solsacra) September 10, 2015
Syiler then posted a video explaining the process. It is entirely dependent on RNG, compounded by the 5 minute cooldown on the table, and even in the video it took 8 or 9 tries before the crab would pop up. Originally thought to be Retribution only, I was able to see the crab on my Paladin in Protection spec.
This Easter Egg hearkens back to the joke that Ghostcrawler hated Paladins, especially Retribution. During Wrath of the Lich King beta, in a discussion about Paladin nerfs and class balancing, Ghostcrawler was famously quoted announcing that Retribution would be nerfed "TO THE GROUND BABY," which presumably inspired this achievement. Unfortunately the old forum posts were lost during Cataclysm's revamp, so we cannot see the original post in all of its glory. Ghostcrawler continued his ribbing of Paladins during the BlizzCon 2010 class panel when he introduced himself with "I like long walks on the beach, drinking gin, and nerfing Paladins."
It's fun to see these types of things pop up in game, as a nod to the community and a little reminder that the devs have fun too.