Blizzard spices up lunch for Road to BlizzCon Championship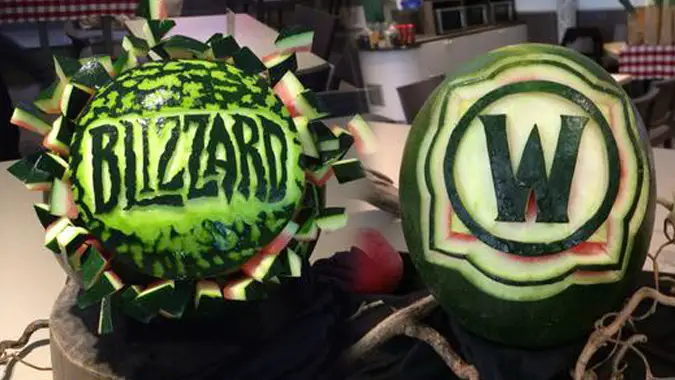 Blizzard's European offices enjoyed some festive themed food today. Thomas Johnson, Blizzard's Project Manager for World of Warcraft and Hearthstone in France, posted pictures of their cafeteria featuring delectable melons carved into our favorite icons.
Some @Warcraft food art in our cafeteria today. #ForTheHorde #ForTheAlliance pic.twitter.com/S7Zli6VYCT

— Thomas Johnsen (@Dreamagram) September 29, 2015
Not only did they have fantastically carved Warcraft themed watermelons, but they also added a Blizzard logo watermelon and Hearthstone on some sort of casaba or canary melon. The bright yellow color makes it look particularly fun and cheerful.
Some @PlayHearthstone food art too, and of course the Blizzard logo. Everyone get in here for some noms! pic.twitter.com/pcqcmrNnbp

— Thomas Johnsen (@Dreamagram) September 29, 2015
Even our traveling friend Lurky the Murloc joined in, highlighting the European Road to BlizzCon and his anticipation to dig in.
BON APPETIT #RtB2015 pic.twitter.com/B2vGfWHz6H

— Lurky (@LurkingLurky) September 29, 2015
The European Road to BlizzCon championship is set to show in Prague this weekend, which is what may have prompted this food art in the first place. The European offices of Blizzard are clearly getting excited for this and it's definitely a unique way to promote it. Hearthstone and World of Warcraft will have their finals here, as well as Heroes of the Storm, though I didn't see any melons featuring their logo.
In addition to the finals for the prize pools, Overwatch be there on demo machines where attendees will be able to try out the two new maps: Volskaya Industries and Numbani. Starcraft also makes an appearance with live show matches of Legacy of the Void and the new Terran and Zerg units. The event will be live streamed on Twitch and YouTube October 3-4.