Chriskon Machinima gives a behind-the-scenes look at making WoW machinima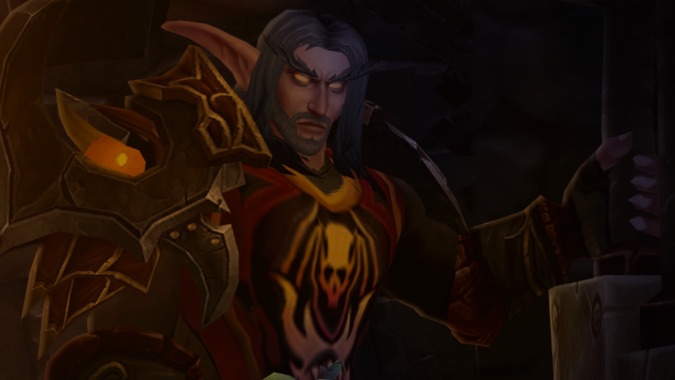 Making machinima in World of Warcraft isn't as simple as pointing your in-game camera and pressing record, something that's perfectly obvious in the carefully crafted music videos of Chriskon Machinimas (you can also find Chris on Twitter and Twitch). Making these goes well beyond the game client, with sets, animation, and effects created using third party software — Chris's creations are brought to life using Sony Vegas, After Effects, 3ds Max, Fraps, Photoshop, and Camstasia Studio.
So just how do these videos go from concept to reality? We caught up with Chris to ask about the how and why of his machinima projects, so come along to take a peek behind the curtain at the machinima-making process.
What Blizzard games do you play, and as what?
Of Blizzard games, I only play World of Warcraft at the moment. I mostly play on my main character which is a Paladin, but I am an altoholic, so I'm usually all over the place. One week I'm transmog-hunting on my Monk, then the next week I'm doing arenas on my Death Knight, etc.
Why make Warcraft machinima?
I've played World of Warcraft on and off since my brother first introduced me to the game in Vanilla, so I've grown quite attached to it. I also love the fact that using World of Warcraft, instead of 100% original characters, limits me both when it comes to stories, and the look of my videos. Managing to then work around the limitations feel a lot more rewarding.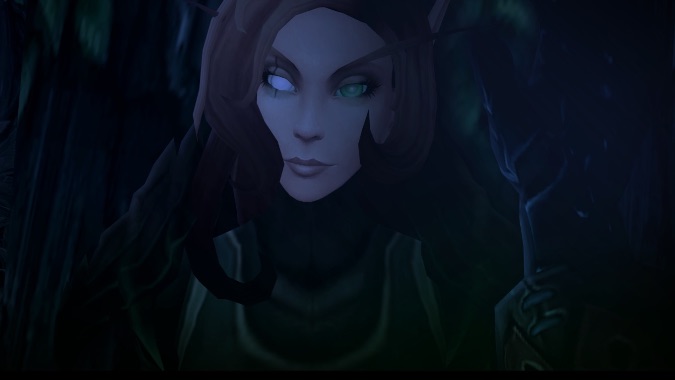 How did you get started making machinima?
I started making machinima around six years ago. I had actually been making videos even before that, but those were simple home-made ones that i created around the age of eight. Anyway, the reason I started making in-game videos was because I loved World of Warcraft, and I had been quite inspired by other YouTubers' videos and animated series in general. It wasn't before recently though that I started to take machinima seriously. Earlier I had mostly been doing in-game machinima with my best friend at the time just to waste some hours.
Did you make machinima for any other games before you started with WoW machinima?
No, the first machinima I made was for World of Warcraft, but I never shared it on YouTube. I usually just showed them to my parents and friends — burning DVDs, etc. There was a time when I did IMVU music videos, but it wasnt as enjoyable as doing it with World of Warcraft, so that didn't last for long.
How long have you been making machinima?
I've been making machinima since 2008/2009.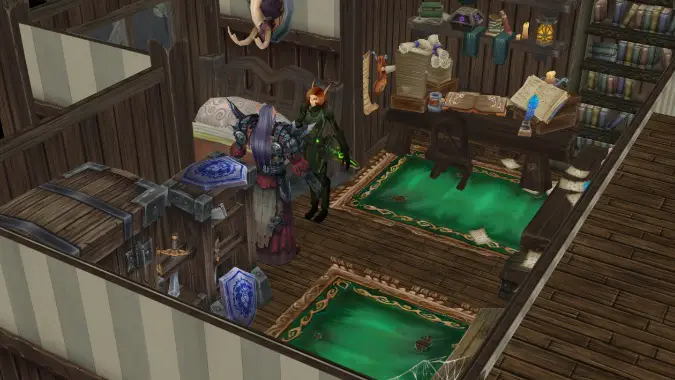 Since you're limited by in-game art and assets, how do you decide on settings and character looks?
For settings, I usually think of where I want my characters to be. I'm lucky enough that I can now create my own sets, so I usually try to mimic the image that first popped up in my head, when planning that particular act. I also write down scripts for my machinima that rely on those sets. In the case of the two sets below, the outside set had to be redone a bit, but I would say the inside is as true to my first interpretation as it could get with the limited furniture options I had. So I don't feel that limited since I really don't mind if my sets don't look the exact same or not, as long as they look good inside the actual video.
As for my characters, I usually use my in-game characters. I'm an altoholic, so I have every class at lvl 100 except two. Almost all of these characters were made way before I made a video for them. I am however guilty of faction changing two of my characters to look like characters from my videos. I tend to really fall in love with characters after having machinimated them, so it felt a bit weird loving an OC more then my in-game toon. The character in the picture beneath was made in my machinima before he became an actual in game character. So basically the mogs were already on the character, or it was based on how I would imagine the character dresses depending on their personality, and the faction/group they are in.
Could you give us a step-by-step on what's involved in making one of your machinimas?
Sure. When coming up with a script, I usually plan months before I actually make the video. I need to get a general idea of the beginning, middle, and end of the story, and at the same time I need to make sure that the song I've chosen somewhat explains the meaning of the story or the characters in it. However the script is mainly based on the character that will be the main antagonist, and the side characters are usually only there to support the story.
From there on, I build the sets in my script, and make sure that the set in general is built to support the actions that the characters need to do. If there is a table or a tree that the character needs to interact with in my script, then I have to make sure that I build it no matter if I've made other changes to the set or not.
Then comes creating the video: Animating the characters for each scene, following the script as closely as possible, making sure that I have enough time for each act, doing the ambiance, etc. Most important of all though is to make sure that each scene in the video furthers the story one way or the other, and that they get the point through for the viewer. There have been a few cases where my scenes weren't as clear as they could have been, but I'm constantly working on getting better at it.
[Editor's note: If you're interested in Chris's process, check out his Creating a WoW Machinima series]
How long does a typical video take to make?
Most my videos are around the 3:00 – 4:00 mark, so I'd say they take a minimum of 30 hours to make now that I create my own sets and animate the characters. Time passes by rapidly though when you're having fun.
Do you have a favorite amongst the videos you've made?
Yes, my favorite video that I have made is my "So Cold" video. It isn't on par with my newer work at all, however I really enjoyed making it as I learnt a lot about script writing, angles, and ambiance. It was also pretty much due to this video that I really started playing around with masking ambiance, instead of only using full layers.
What are you working on next?
I just recently finished my latest video that I was working on (Already Over), so right now I'm only building sets and making sure the script is right for my upcoming video called "The Collapse." Actually I've been quite looking forward to make this video, as both the sets and the story itself are far outside of my comfort zone. Especially the story though, as both the main characters are mentally unstable, and there will be a lot of interactions, and facial reactions in general.
That's all for BlizzCrafts today — but check back next week for another selection of cool Blizzard-themed crafts! Have Blizzard arts and crafts of your own you'd like to see on Blizzard Watch? Send them our way– submissions and suggestions should be sent to liz at blizzardwatch dot com.