David Tennant and Catherine Tate return to Doctor Who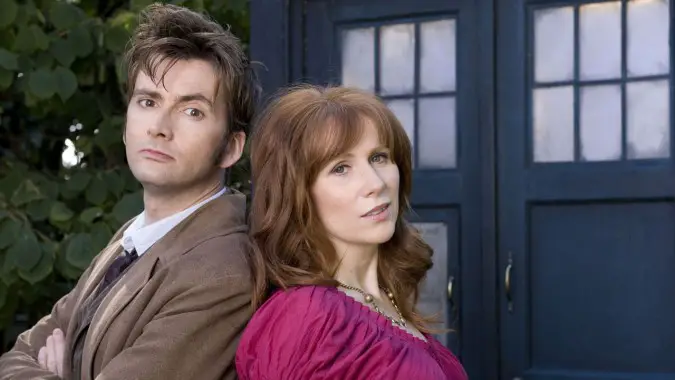 I have been waiting all my life (or, okay, at least the past six years of my life) for these words: the Tenth Doctor and Donna are coming back to Doctor Who… though with a few caveats.
Unfortunately, no, this does not mean that we're getting new televised tales of the Doctor and Donna Noble — and we aren't likely to get any kind of retcon or continuation of Donna's story from where it left off in Journey's End. Instead, we'll get new audio-drama adventures by Big Finish — which has been producing Doctor Who audio plays since well before the show returned to television — set somewhere in the show's fourth season. If you're not familiar with the concept of audio dramas, think of some of your favorite story-driven podcasts like Welcome to Night Vale. This is a similar concept: we'll have a full-scale Doctor Who story with cast, sound effects, and music — it's just the visuals you need to use your imagination for.
There will be three audios in total:
Technophobia by Matt Fitton: Set in a London slightly in the future, where mankind is gradually losing its ability to use everyday technology. Could there be an evil force at work?
Time Reaver by Jenny T Colgan: The Doctor and Donna arrive on Calibris — 'An entirely mechanical planet. Catch, hitch, fuel, fix, buy, pretty much any kind of transportation in existence.' It's also a world full of scoundrels, where a deadly black market has opened up in a device known only as the Time Reaver.
Death and the Queen by James Goss: Donna is swept along in a fairytale romance and meets the man of her dreams in the beautiful land of Goritania. What can possibly go wrong? And why has the Doctor never heard of Goritania?
Interested? You can pre-order the stories now — though they won't be released until May 2016 — for download for just $22 (for just the stories) or $25 (for the stories plus behind the scenes features). For three new Doctor and Donna adventures, it seems like a steal.
Can't wait until 2016? Well, you can enjoy a bit of Tennant and Tate together in this announcement video.
And if that still isn't enough Doctor Who adorableness for your day, you can check out this video of a corgi cosplaying every incarnation of the Doctor. (Of which Capaldi is definitely our favorite. Rock on, little corgi!)