Heroes of the Storm free hero rotation and sales for October 27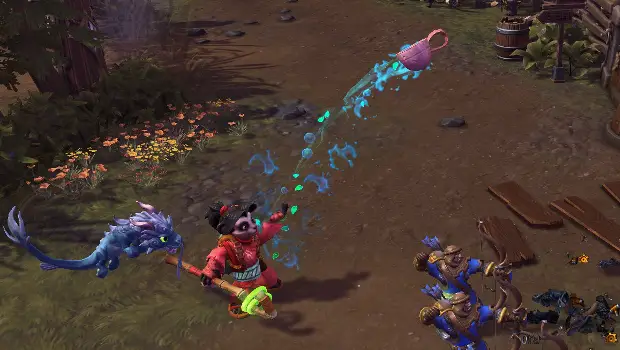 Every week Heroes of the Storm has some heroes you'd usually have to pay for that you can play for free in the free hero rotation, plus a number of heroes and skins on sale in the weekly sale. It's a great way to try out new heroes without committing to buy, as well as grabbing new heroes, skins, and mounts at bargain prices.
Though last week Artanis joined the Heroes of the Storm rotation for anyone who pre-ordered StarCraft 2: Legacy of the Void, this week he'll be available to everyone for the standard new hero price of 15,000 gold. So if you're tired of having StarCraft 2 players push you around with the latest hero, now's the time to pick him up for yourself — and if you do, be sure to check out our guide to get started.
But if Artanis doesn't catch your interest, this week you can also celebrate Hallow's End in Heroes with bonus XP, a Hallow's End Jack-O'-Lantern portrait to earn, and new holiday-themed items and bundles.
Now, on to this week's hero rotation!
Let's kick off the week with a holiday-themed poetic epic from our resident bard, Mitch:
You'll try to keep Leoric off the map to no avail,

Sylvanas will silence you with a banshee's wail,

Not spooky enough? There's more with this sale:

Countess Kerrigan, who turns into a bat,

Skelethur Abathur, who'll give you a hat,

Infested Tychus, who shoots his chain gun,

And finally Buccaneer Falstad, who'll keep you on the run.

Yes, it's Hallow's End in the Nexus, you're in for a treat,

Give it your best, and you won't be beat!
Here are this week's free heroes:
If you need a starting point, check out our assassin guide, specialist guide, support guide, and warrior guide for quick rundowns on each hero.
If you're in the market for new heroes or skins, here's what's on sale this week:
Our team had a few (though not many) thoughts on this week's free lineup:
Dan: Li Li seem like a simple Support character, but she has one of the highest win rates in the game. If you're looking for more a challenge when playing support this week, Kharazim will provide that for you. If you absolutely hate Support but have to play one for a daily quest, Kharazim can be played DPS style, just warn your teammates you won't be healing much.
Mitch: Kharazim is my support hero of choice. Not only does he literally pack a punch, but he's fun and much more in your face than most support heroes. He feels like a monk in his playstyle and it makes for a great experience, even if you don't usually like Support. That being said, he's not always the best if you're the only Support on your team. Especially if you spec him for a more offensive build, your team may expect more out of you than you can offer.
Anna: Kharazim is by far the support I like playing least. I don't really know why.
Mitch: Well, I play mostly Warriors, and he feels kind of like a warrior at times. Solid damage and more survivability than most assassins. That may be why I like him.
Dan: For Warriors this week, ETC just got a round of buffs so you may want to check him out if you haven't played him lately. However, Leoric is great deal of fun to play even given his recent small nerfs. Nothing feels better than a well placed Entomb.
Mitch: Leoric is a lot of fun, but the number one rule with him is to remember that his deaths still count as full XP for the other team!! You can be all over the board and sneak around, but if you resurrect in a bad spot, you could chain-die and give the other team a lot of free XP.
Dan: If you are looking for straight up fun, Sonya is a great choice as a tanky Assassin that will send enemies fleeing. With Support back up, she's particularly dangerous and can wrack up the kills.
Alex: SUPER SONYA.
Mitch: The only other character I have a decent amount of experience with is Sylvanas (or SLYvanas). Her trait makes her excellent at pushing lanes and taking out merc camps. Just remember to stay back and be aware of open space to use your banshee ability for a quick escape.
Anna: I've noticed a lot of people playing Sylvanas try to sneak in backdoor caps. This works OK in AI games, but most players are wise to it so you'll likely just be feeding in QMs unless your opponents are extremely unobservant.
This week's freebies and sales should go live on Tuesday afternoon at 2:30 PST / 5:30 EST — until then, we'll see you in the Nexus!