OpenRaid Raid A Thon giving away BlizzCon 2015 Virtual Tickets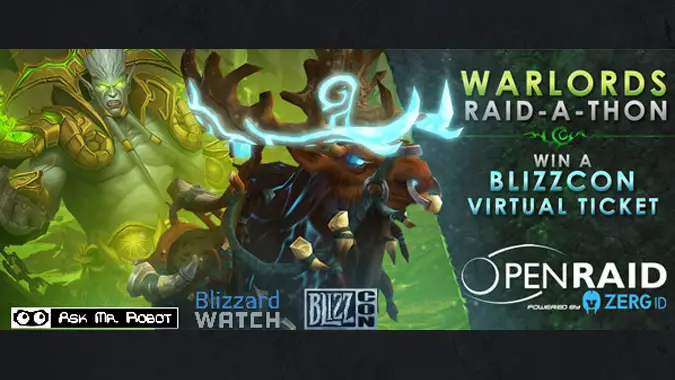 Are you in the mood to do some raiding this weekend? How about a lot of raiding? OpenRaid is giving away two Virtual Tickets to BlizzCon 2015 for players that participate in the OpenRaid Raid A Thon. To participate, all you need to do is…raid! The winners will be the leader who posts the most raids via OpenRaid, and the player who attends the most raids. All events must have at least five participants to qualify, and the events must be rated. If you ever needed an excuse to get all those pesky raid achievements out of the way, this is a pretty good one — the winners will receive a Virtual Ticket code for BlizzCon 2015, which includes the stream as well as in-game codes for Blizzard's games — the Murkidan pet for WoW, the Xel'Naga and Spear of Adun portraits for StarCraft 2, the Nexus Battle Beast mount for Heroes of the Storm, a Murkgoblin pet and portrait as well as a banner for Diablo 3, and a special Blizzard 2015 card back for Hearthstone.
Don't forget — while you're participating or running all those raids, you'll need to post your totals on the OpenRaid forum thread. For official rules, check out the OpenRaid's post, and if you'd like to participate, head over to the OpenRaid website to sign up. The contest runs until Tuesday, October 27 at 11:59PM EDT.