WoW Archivist: 5 BlizzCon memories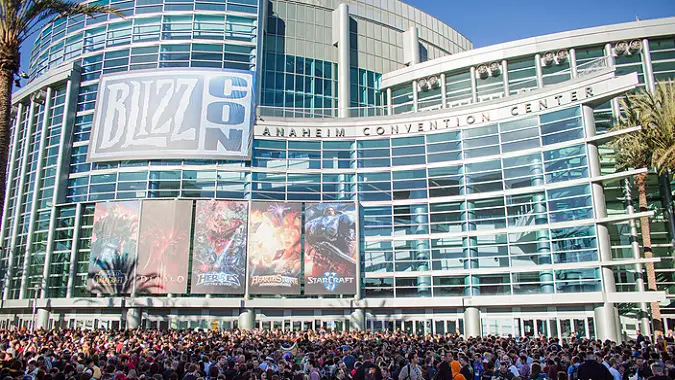 BlizzCon 2015 is only a few more days away! Every BlizzCon brings with it some big reveals, amazing fans, and unexpected moments. With a decade of BlizzCons behind us, we have a lot of fond memories, but we've narrowed them down to our five favorite moments from BlizzCons past.
1. Our first look at Outland
In 2005, a grand total of 8,000 dedicated Blizzard fans attended the very first BlizzCon. World of Warcraft had built up about 3.5 million subscribers, which was an unheard-of milestone for any MMO at the time. With the game's popularity surging, the biggest question at this BlizzCon was, "What's next for WoW?" So much was completely unknown at the time. Would Blizzard continue adding 1.x patches? Would they ever add new classes or new races to the game? New zones or professions? Would they raise the level cap? The entire future direction of WoW was a mystery.
During the opening ceremony, Blizzard answered those questions with The Burning Crusade. Attendees witnessed a 5-minute trailer showing off the expansion's content, including Outland, Blood Elves, and Karazhan. (Draenei weren't announced until about six months later.) The above trailer is rough around the edges, but it showcases how far Blizzard has come from those early days.
We also learned that we'd be leveling to 70, taking to the skies on flying mounts, socketing jewels into items Diablo-style, and traveling to the past via the Caverns of Time. All in all the expansion seemed to offer a mind-blowing extravaganza of features and content. It proved Blizzard wasn't going to rest on their laurels with World of Warcraft. They were going to keep pushing the game forward into new directions. Perhaps no other BlizzCon announcement has shaped the future of the game more than this one.
As an unfortunate side note, the only other upcoming Blizzard game on display that year was the ill-fated StarCraft: Ghost.
2. Turtles all the way up
2008 didn't feature any big WoW reveals, as Wrath had been announced the previous year. But WoW still managed to steal the show at one point that weekend, during the costume contest. Amanda Hosler brought down the house with an insanely elaborate costume featuring a "walking" turtle mount that she rode onto the stage. In an Allakhazam interview, she said that her father helped her with the more power-tool-intensive aspects of the costume, which included an electric wheelchair as the base, but she made everything else herself. The turtle alone took 3 months to construct. She had to stop raiding so she had enough time to finish the costume for BlizzCon.
Amanda joked that she'd have to outdo herself the next year with a flying mount, but Blizzard had other ideas. Fearing an escalation into mount-based costumes, Blizzard added new rules to the contest. They put a 10-foot limit on costume sizes and said that all costume items had to be held or worn. Mounts were out for good.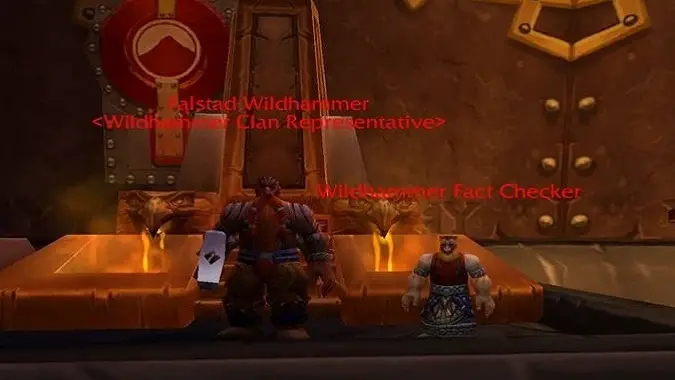 3. The guy in the red shirt
Lore Q&A panels are not a traditional source of amazing BlizzCon moments. In 2010, a guy in a red shirt walked up to the microphone and into WoW history. He pointed out an inconsistency in Blizzard's lore. They questioned it, but he turned out to be 100% right, and the panel promised to fix the error. The crowd cheered him on. The video went viral and made him a hero to lore enthusiasts everywhere. He became known as Red Shirt Guy, but his real name is Ian Bates.
Ian later revealed that he has mild Asperger syndrome, making his moment in the spotlight all the more courageous. Blizzard honored him with an in-game NPC called Wildhammer Fact Checker, decked out with his signature red shirt.
The next year, Chris Metzen noticed Red Shirt Guy at BlizzCon lore panel. He jumped off the stage to give Ian a hug.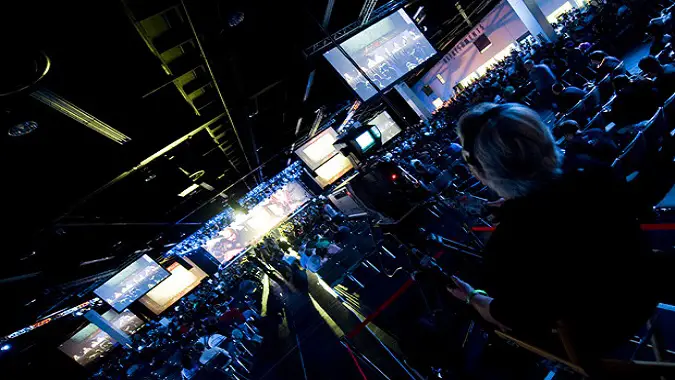 4. Conan the Commentator
Warlords of Draenor was revealed at BlizzCon 2013, along with Diablo 3's Reaper of Souls. Amidst these two very serious-sounding game expansions, Conan O'Brien visited the convention to experience — and poke some fun at — WoW and its playerbase. Conan got to play Warlords before most of us did. He rolled an Orc. He tried to chat with another player, who ignored him. He then stalked and cursed at that player for ignoring his chat. Finally he fell off a cliff and died. I imagine that many first-time MMO players have similar experiences.
He also interviewed an Arena team and commentated on an Arena match in hilariously clueless fashion: "I'm seeing a lot of fire, I'm seeing a lot of green flame, I'm seeing a lot of running around… It's all playing out exactly as I predicted." When the other commentators talked about team comp, Conan had a pithy analysis: "Yes, that's true, they brought in the Shaman… A move that didn't surprise anybody, really… And the Shaman was able to bring various potions and skills, lotions and creams, and was able to prevail."
The other commentators were kind enough to tell him who won at the end.
5. Mike Morhaime advocates for respect
Last year, some rather awful people were saying some rather awful things within the gaming community. It created a lot of anger, bad feelings, and general negativity, both by gamers and toward gamers. During BlizzCon 2014's opening ceremony, Blizzard president and CEO Mike Morhaime took a brief but important moment to address the issue head-on.
"There is another person on the other end of the chat screen," he said, "They're our friends, our brothers and sisters, our sons and daughters. Let's take a stand to reject hate and harassment. Let's redouble our efforts to be kind and respectful to one another. And let's remind the world what the gaming community is really all about."
The remarks brought a thunderous cheer from the crowd.
Notably, Morhaime refused to name the perpetrators or their alleged organization, preferring not to provide them with any recognition at all. Amidst the fun and excitement of BlizzCon, it was a sobering reminder that we as gamers are part of a global community and we can all do our part to help keep the dialogue within that community more positive.
What will BlizzCon 2015 bring? We can't wait to find out!