BlizzCon 2015: Overwatch Live Blog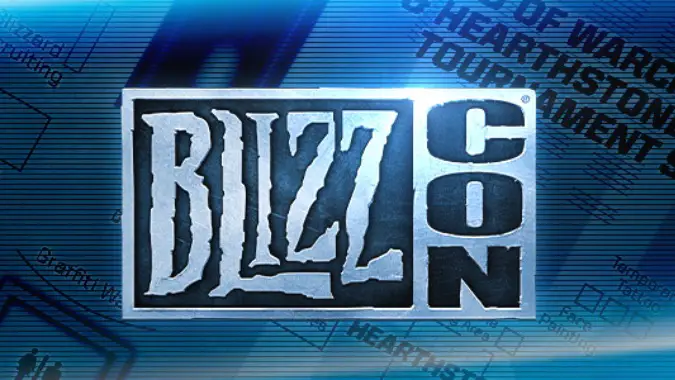 This is the live blog for the Overwatch panel at BlizzCon 2015. The live blog will take place at the following times:
7:45 p.m. EST
6:45 p.m. CST
5:45 p.m. MST
4:45 p.m. PST
12:45 a.m. London
1:45 a.m. Paris
11:45 a.m. Sydney
The live blog begins after the break!
Don't see the latest? Just hit refresh!
4:50 p.m. After some technical delays on our end, we can start liveblogging! The start of the panel covered a retrospective and a look at feedback from the beta thus far.
4:51 p.m. Jeff Kaplan is talking console design. Specifically, he says there's a "forced elegance" to designing for a gamepad — it has limitations, but sometimes those limitations work. Kaplan also mentions the aim assistance discovered early in the beta was specifically for gamepads on console. FYI, that's standard for console shooters.
4:52 p.m. Why Hollywood for the newest map? They want to portray a "Blizzardized" version of the real world. It's the global fantasy of these locations. Hollywood has a fantasy of glitz and glamor. Lots of Blizzard references on this map. Goldshire Studios, a WB-style water tower with an Alliance lion on it.
4:54 p.m. The Hollywood map has a lot of balconies and overhangs throughout film facades — different characters can/will take wildly different routes through that section. The retro space alien teaser that hit Twitter last week, that set is present in-game.
4:55 p.m. An Omnic (robot) director by the name of Halford Glitchbot is the payload on this map. I'm not entirely sure I heard that correctly, but only because it sounds absurd!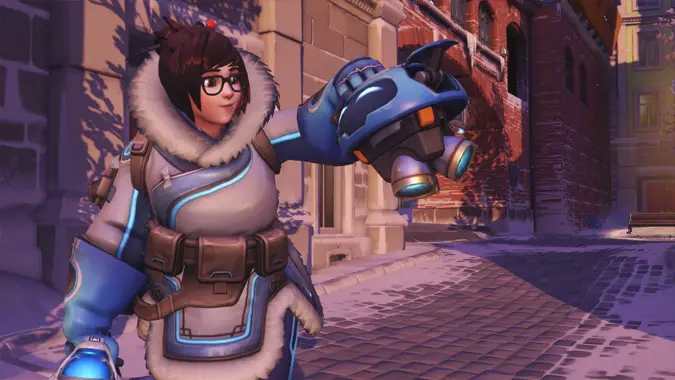 4:56 p.m. They're starting discussion of  the three new heroes. Arnold Tsang took the mic to discuss Mei, the ice-based hero revealed earlier today. Mei would "fit right in with the League of Explorers." She's a scientist for Overwatch, specifically a climatologist.
4:57 p.m. Mei was stationed in Antarctica when their post was cut off and isolated. She create a cryostasis system to keep her crew alive until rescue arrived — it didn't until many years later, after the closure of the Overwatch organization.
4:58 p.m. Mei's earlier concepts had a similar silhouette to Zarya with a big puffy jacket and a two-handed cannon. To differentiate the characters, they changed her stance and gave her a single-handed gun with a backpack.
5:00 p.m. Mei doesn't dish out a ton of damage, but she isn't easy to kill, either. Her playstyle is to set up a lot of team plays. She freezes and slows enemies and lets your team capitalize. You can check out her full suite of abilities on the Overwatch website.
5:05 p.m. Teammates can actually traverse the ice walls Mei creates. One clip showed the ice wall sprouting up beneath Tracer to lift her off the ground. Another showed Hanzo scaling the wall for height.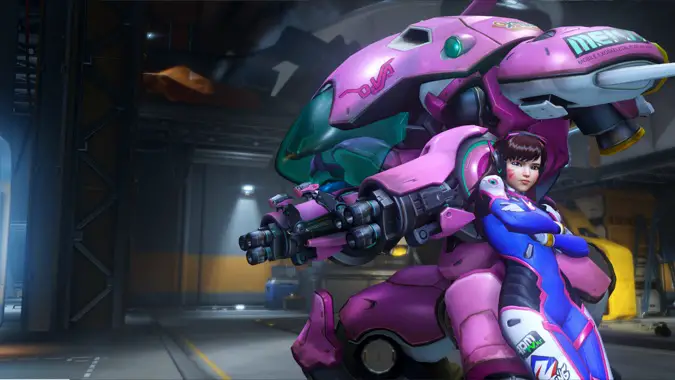 5:06 p.m. Now D.Va is up! During the Omnic crisis, a giant robot rose out of the ocean to attack the Korean peninsula. MEKA was formed by South Korea to battle the omnic — a military unit which used piloted robots. The MEKA unit was all pro gramers, which I'm pretty sure was a YouTube promo for Pacific Rim.
5:09 p.m. D.Va's character started as a little girl in the concept stages, but having her on the battlefield seemed weird. The next iteration, she was already being concepted as a gamer — "what if she streams while shooting omnics?"
5:10 p.m. When D.Va's mecha dies, she doesn't. She pops out of the cockpit and has a change to rebuild her mech. Her mech has cannons which slow her down when firing them, but also has short-cooldown boosters for rushing into battle and forcing opponents to back down.
5:13 p.m. D.Va can trigger a self-destruct on her mech. It's described as the largest explosion in Overwatch and you shouldn't bother trying to outrun it.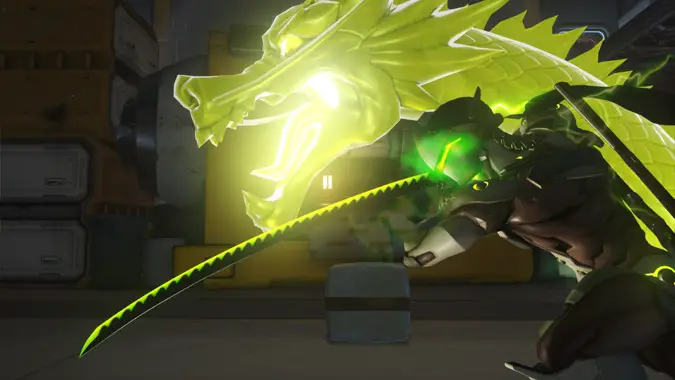 5:16 p.m. On to Genji a.k.a. Cyborg Ninja a.k.a. Knockoff Gray Fox a.k.a. Hanzo's Brother. While Hanzo had to take on the family business, Genji was off being a playboy — a "liability." Their clan demanded Hanzo bring him in line. He tries — but Overwatch recovers Genji, gives him a cyborg body, and uses him to shut down Hanzo's clan. Genji learns to become "one" with his human and cyborg sides under the tutelage of Zenyatta.
5:19 p.m. Genji and Hanzo were both one character early in concepting. A cyborg ninja with a sword and a bow became a cyborg ninja with a sword and a human ninja with a bow.
5:21 p.m. Genji's sword is actually his ultimate rather than his primary attack — balancing melee in a shooter was tough, but it's okay if the sword is terrifying as an ultimate. His primary attack is shuriken.
5:23 p.m. His Swift Strike is a dash forward with a smaller blade and he can dash in any direction, including straight up. If he kills someone with it, the cooldown resets. Genji also has a Reflect which turns back any projectiles and turns them into his own projectiles, directing them where he's pointing.
5:28 p.m. They're holding some Q&A.
Q: No Mac version. What's the deal?
A: Blizzard has a rich history of supporting Macs, but the technology behind Macs vs. the requirements for a game like Overwatch, it's too challenging to make it happen.
Q: Plans for new game modes?
A: They're working on some, but it's tricky with the hero roster. For example, in capture the flag, is it fair if a character like Tracer has the flag?
Q: Most characters have utility spells on E and movement on Shift. Mei's movement wall is on E but her iceblock is on Shift. Seems flipped. Why?
A: Good feedback. Sometimes buttons get flipped around based on feedback like that. Users can also redo all of their keybinds, and at some point, they want to have keybinds set per-hero so your Tracer hotkeys can be different from Bastion, etc.
Q: If you buy the retail release, do you get all of the heroes forever and ever or just the starting roster?
A: Right now there are only 21 heroes in Overwatch, and that's all they're focusing on right now. It's a future decision whether or not Overwatch can support more heroes, and if it can, how those can be introduced. Is the current 21 enough? Too few? Overwhelming? Beta + launch will tell.
Q: How modder friendly will this be? Custom skins, custom maps?
A: Blizzard's studio philosophy supports modding with things like WoW's UI, the WC3 map editor that spawned the Dota genre, etc. They want to figure out how to make that happen with Overwatch, but the game won't have much moddability at launch. It's something they definitely want.
Q: Concern about going past 21 heroes. Uses WoW classes as an example: how do you avoid homogenizing?
A: They're starting to feel like 21 is the limit. They haven't thought much beyond that, homogenizing is a real risk, as is raising barrier to entry for new players too high. Time will tell.
Q: Will there be alternate versions of characters? Male versions of Tracer, etc?
A: They are working on different skins, but not gender alterations. Specifically speaking to the Tracer example, the Slipstream Tracer calls back to her origin story and how she got her teleporty powers.
Q: When will the new characters hit the beta?
A: "Depends on how much time the development team spends at the Hilton bar tonight." Next week sometime. Probably.
Q: Now that Overwatch is hitting consoles, is splitscreen co-op a possibility?
A: No plans to support it at this time, but it's a "killer idea."
Q: Are changes to the UI possible? Can you turn it off, change the scaling, etc?
A: FOV slider was added based on feedback. No plan for a fully customizable UI like WoW, but further options for customization is possible. For example, changing the reticle. Not something they're jumping to do ASAP, but they want to do it. Feedback is helpful for knowing what's needed.
Q: Will there be an esports league for both console and PC versions of the game?
A: All three platforms are seen as equal. They aren't prepared to make any esport announcements, but want to make sure all platforms see equal support.
That wraps up today's panel! For more Overwatch, check out the World of Overwatch panel tomorrow morning.