World of Warcraft's Legion alpha is now live
Updated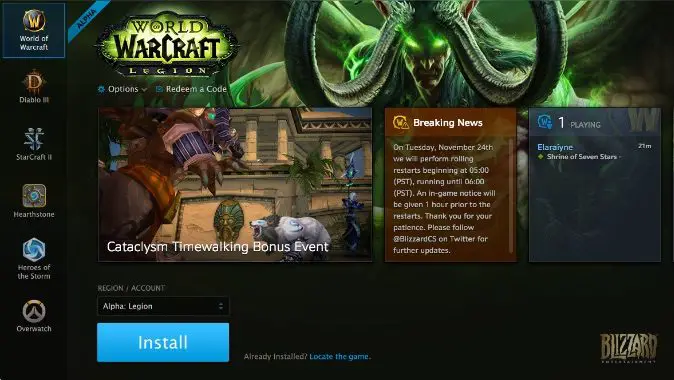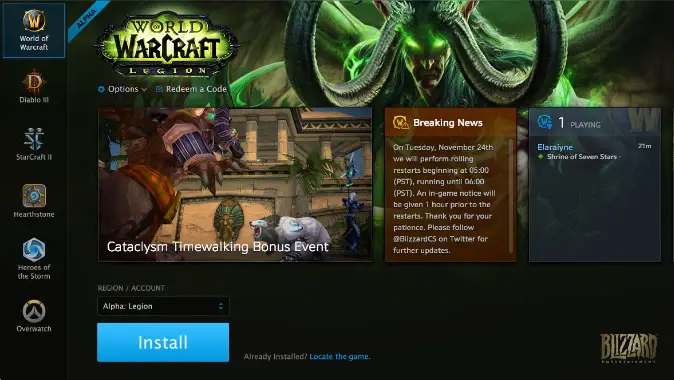 Finally, the moment we've all been waiting for: World of Warcraft: Legion is officially in alpha testing stage.
Though we were all expecting the Legion beta considering Blizzard said the beta would start within weeks of BlizzCon, the client up on the Battle.net launcher is clearly labeled as an alpha. While I would tend to argue that this is more of a semantical difference than anything, alpha testing always precedes beta testing and indicates an earlier version in the development process. In short: we're probably still seeing a pretty early version of Legion in action, here, and we're likely to see a lot of change before launch.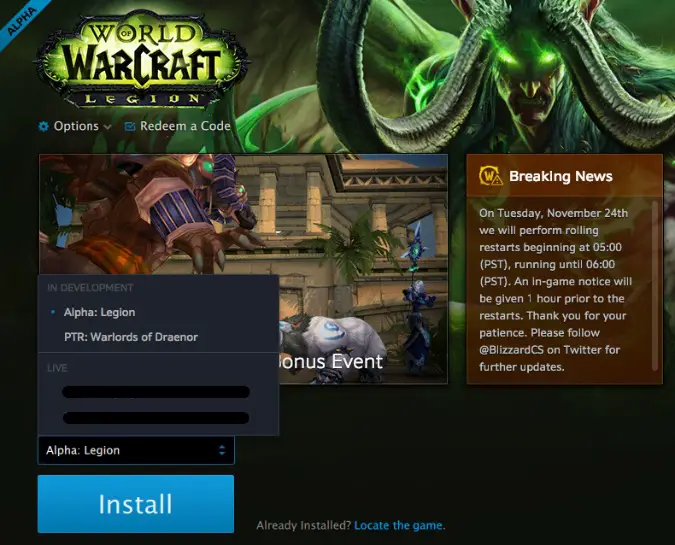 To check if you're in the alpha, fire up your Battle.net launcher and check the pull-down menu under Region / Account. If you see a section labeled Alpha: Legion, you're in.
Update 1: Note that while I would usually expect to see this information on the Battle.net page itself under account information, it's not currently appearing there in the typical format (i.e. with a clear label reading something like "Legion Alpha"). Instead, if you log on to Battle.net and see two WoW PTRs listed and one of them numbered something other than WoW1 (we've had reports of WoW4, WoW5, and WoW6), that may be an indication you have alpha access — but check the launcher to be sure.
Update 2: For Mac users, however, I've got bad news: the Mac alpha client isn't currently working. Though you can download and install the client, it won't work. Tech support forum MVP Omegal explains:
It installs everything on mac except the application binaries. They are missing from CDN which means when you try to click "play" it'll fail to find valid binaries and abort.

Don't worry, this isn't an overwatch situation though. Mac is supported, just delayed, much like Diablo 3 2.4 PTR which only worked on PC for about a week or two. It's just the nature of having an understaffed mac team : Things can't be ready at the same time.
Update 3: Glaxigrav with Blizzard support followed up confirming the Mac client won't be playable until the next build:
Due to some technical difficulties on our end, there aren't Mac Binaries for the current Legion test build. The next build will have binaries according to our Mac Engineers. I don't have an ETA, but keep an eye out for Legion-specific forums once we're ready to dive head-first into testing.
It's hard to say what Glaxigrav means by "once we're ready to dive head-first into testing." Does having an alpha client available to testers not indicate testing? Oh well, maybe that's semantics, too.
Update 4: Emails are starting to go out to players in the Legion alpha. While you should be careful of scams — as we saw with Overwatch — the email will let you know you're in. Just be sure not to give anyone your username or password (Blizzard will never ask for it by email) and remember if you are in the beta it will show up in your Battle.net launcher. Here's the full text of the email:
Originally Posted by Blizzard
Congratulations—you've been selected to participate in the alpha test of World of Warcraft®: Legion™!
As an alpha test participant, you'll experience the new content and features of Legion before the expansion is released. Over the course of testing, you'll get a first look at the fierce new Demon Hunter class, explore the fabled Broken Isles, take control of class order halls and artifact weapons, and get reacquainted with the demonic Burning Legion!
While you prepare to embark on your journey, keep in mind that Legion is still in development, and additional content and features will be made available throughout the alpha testing process. For an overview of what's available in the current phase of testing, head over to our alpha forums.
Feel free to stream, record video, and post screenshots. You're welcome to publically share your experiences and adventures in the beta. Remember, your feedback will directly impact the quality of the final game—our developers are standing by!
Additionally, the email clarifies what's contained in this version of the alpha: the Demon Hunter starting experience, including Mardum (which was what BlizzCon attendees got to play) and the Vault of the Wardens (which is new content). This definitely indicates that the alpha is very, well, alpha — we're still seeing a very early look at Legion content, focused entirely on Demon Hunters.