Breakfast Topic: It's Pilgrim's Bounty time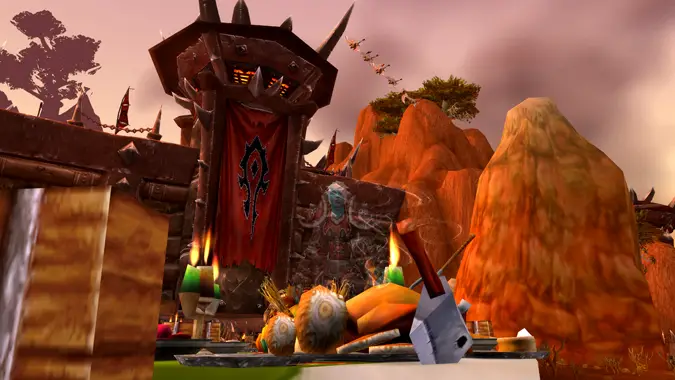 My fellow Rogues,
It's that time of year again. Watch your backs. Stealth everywhere you go, and if you love your life uninhibited by the careless rustle of feathers in the breeze, avoid all major cities. They are out there, waiting for us to emerge from the silence and the shadows, and all it will take is one false step, one careless reveal for them to strike. So hide, while you can. Complete your holiday dailies far away from the collected crowds. Use whatever means necessary to disguise yourselves. For if they find you, it's only a matter of time.*
They call this a holiday — I call it an excellent time to practice the arts of subtlety and subterfuge. They'll never make a turkey out of me. Never.
Although nothing new has been added to this year's holiday, Pilgrim's Bounty still has a couple of random-chance items to grab for players that missed them last year. If you complete your dailies, you can choose Pilgrim's Bounty as a reward, and it has a chance to drop either the Silver-Plated Turkey Shooter for your Toybox, or the Frightened Bush Chicken battle pet for your pet collection. And of course there's the usual round of holiday achievements to be gathered … including that blasted rogue-blasting achievement, Turkey Lurkey. You'd think by now everyone would have the achievement, but I still can't take three steps in Orgrimmar without exploding in a flurry of feathers and indignant gobbling.
What about you guys? Are you participating in Pilgrim's Bounty this year? Are there still achievements you need to finish, or have you gotten them all taken care of years ago? Are you looking for the elusive battle pet and toy, or are they not really worth the time spent traveling from major city to major city? What are your plans for the in-game holiday?
*Unless you're a Pandaren, in which case you lucked out because you aren't part of the achievement.