Legion PVP preview introduces two new arenas, Prestige Levels and more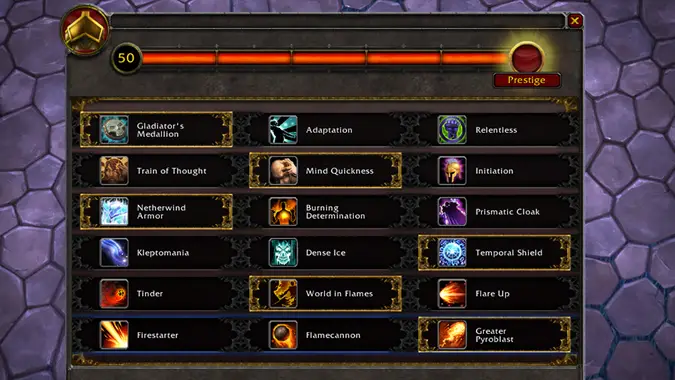 Blizzard posted a Legion PVP preview earlier today that goes into some details surrounding the massive amount of PVP changes players will be seeing in the upcoming expansion. Along with a revamped Honor system, players can look forward to not one, but two new arena maps — one in Black Rook Hold, and the other in the forests of Val'sharah. In addition, there's some sweeping changes to PVP rewards and gear on the way — specifically, the complete absence of PVP gear, which actually seems like it's going to be a really good thing.
How is that good? Because PVP is no longer dependent on the gear choices you make. Players who jump into PVP will be given a set of pre-determined stats based on their class and specialization. While this number can be modified depending on the item level of your gear, the modifier is relatively minor — for each point  your item level increases, your PVP stats will increase by 0.1%.
But this isn't a bad thing at all. Instead, it evens the playing field and eliminates the giant gear gap between players starting PVP for the first time, and players that have been playing all season. In addition, normalizing stats across the board allows Blizzard to make individual tweaks to classes and specs that are under or over-performing in PVP — which means that in Legion, it looks like your rank in PVP is going to be far more dependent on skill and gameplay, and less on the gear you've managed to acquire.
This doesn't mean that PVP rewards are out the window, however. Developers like how the Strongbox reward system has worked out so far, and they're working on something similar for Legion. You'll still see gear — and it'll be gear that you can use anywhere.
But the thing I'm most excited about is the revamp to the Honor and Conquest system. Rather than currency, Honor Points are now going to work in a similar vein as XP, allowing you to level up and choose PVP-specific talents and abilities. Once you've reached level 50 in the Honor system, you can either stay put, or pick up a Prestige level — which starts you over at level 1 in the Honor system. Advancing your Prestige Level will unlock even more rewards, including a wearable faction pennant, a new title, a unique mount, and more.
With all the changes in store, PVP is going to look a lot different in Legion — but honestly, the planned changes look like they're going to make PVP a lot less frustrating and a lot more fun. Head to Blizzard's official preview for more information, including a couple of screenshots of the new Black Rook Hold arena.