Hearthstone's January card back is You've Won My ♥-Stone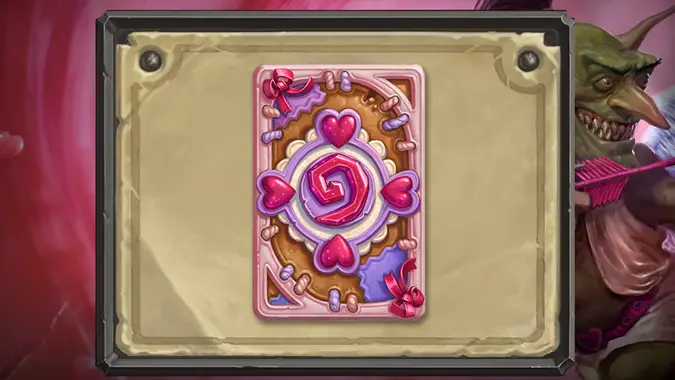 Hearthstone's January card back is something else — You've Won My ♥-Stone, a cloyingly sweet pink and purple ribbon-bedecked ode to Love is in the Air. While the immediate response from people seems to be "Why is there a Love is in the Air card in January?" the reasoning here is actually pretty simple. To earn the card back, you just need to hit Rank 20 in Ranked Play mode. While you will earn the card back if you do so during the month of January, you won't actually receive the card back until the end of January's Ranked Play Season — which is just in time to use your brand-new card back for February, allowing you to celebrate Love is in the Air with an appropriately themed card back.
If you're worried about hitting Rank 20, don't be — you won't lose any stars under Rank 20 in Hearthstone, so it's easy enough to work your way up the ranks if you simply log on and play a few games here and there throughout the month. Of course, once you've hit Rank 20, you might want to keep playing and earn some bonus stars. The further you move up that Ranked Play ladder, the more bonus stars you'll earn — one star per rank. And those bonus stars will roll over to the following month, getting you closer to Rank 20 right out the gate next season for whatever card back happens to roll out in February.