New Heroes skins include Star Princess Li-Ming, Lunar Jaina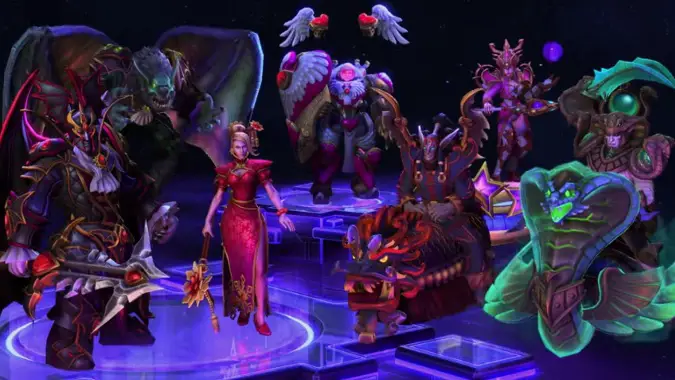 We already know that the next two heroes headed to the Nexus are Wizard Li-Ming and Necromancer Xul, but now we have a preview of their skins as well as other new content — we hope — coming soon. So just what's heading to Heroes of the Storm? We've got new skins for Arthas, Jaina, Illidan and Morales, three new mounts, plus a Lunar Festival theme that's likely a prelude to a special event for February.
Check out all the details below.
Beyond seeing the base skins and colors for Li-Ming and Xul, here are the rest of the new skins and mounts on display:
Star Princess Li-Ming with themed abilities — think Sailor Moon style.
Star Chariot mount, which matches Star Princess Li-Ming.
Serpent King Xul, a mummy-ish look that mimics the style of Diablo's desert tombs and the Heroes Sky Temple battleground map.
Cloud Serpent mount, which is not a WoW-style cloud serpent but instead matches Serpent King Xul and has a more Diablo-themed look.
Crimson Count Arthas skin with themed abilities and a bat form mount, giving us a gothic look to match Countess Kerrigan's.
Love Doctor Lt. Morales with themed abilities which is strange, but perhaps appropriate for Valentine's Day.
Lunar Jaina with themed abilities has Jaina decked out in WoW's Lunar Festival Dress.
Lunar Illidan with themed abilities, another Lunar Festival look, though he seems to be wearing a luchador-style mask which is based on a traditional Chinese opera performance according to Reddit (see this YouTube video) and may change in his portrait according to his health.
Lunar Dragon mount, which keeps the Lunar Festival theme going and matches Lunar Jaina and Lunar Illidan.
So when will we be getting these new goodies? The Li-Ming and Xul skins seem likely to arrive with the release of their respective heroes — possibly with the matching mounts, too. We don't yet know when that will be (or which one of them will hit the Nexus first), but we should see a new hero in the next two to three weeks. The Lunar Festival-themed skins certainly suggest we'll see some kind of Lunar Festival event coming in February — presumably with the mounts and skins arriving with it. If Heroes matches their Lunar Festival to WoW's, that means sometime within the first two weeks of February. Love Doctor Morales seems likely to be the last of this batch on the release schedule, likely heading our way around Valentine's Day.
We also expect Space Lord Leoric (above) to arrive in the Nexus this Tuesday, January 26th. He was datamined way back in December but hasn't yet shown up, but the Heroes team just tweeted a new wallpaper featuring this Leoric variation with his launch date noted at the bottom of the poster.
[Update: Noted Space Lord Leoric's arrival date and possible background info on Illidan's mask.]