Breakfast Topic: Your best April Fools' prank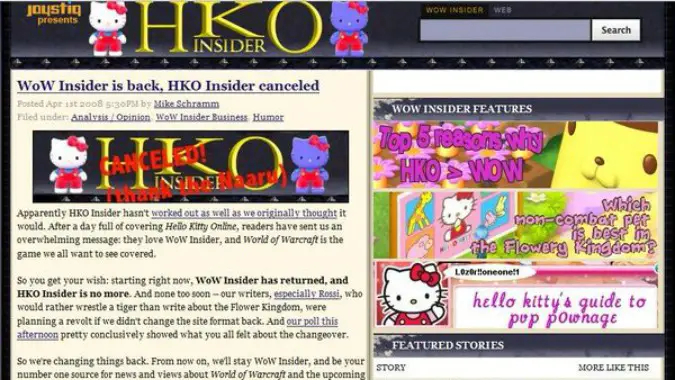 We here at Blizzard Watch have a long history of April Fools' jokes dating back to 2008 when we transformed the Site That Shall Not Be Named into Hello Kitty Online Insider for the day. We covered a fictional Hello Kitty Online expansion, delved into the lore of Keroppi, and even spotlighted some HKO machinima. Great fun was had until we reverted back to covering WoW the next day and then, to our great amusement, Hello Kitty Online was announced as an actual title later that year.
A few years later we got even more ambitious and transformed the theme of the site every two hours from 8am to 8pm to such themes as Twilight Insider to BioWare Insider to Saturn Six Insider. That last was our own little inside joke. Saturn's sixth moon is… Titan, which was the code name for Blizzard's then-in-development next-gen MMO that got scrapped in favor of Overwatch. We knew nothing about it other than the codename and paid homage to it in the last hours of our April Fools' prank in 2010.
Have you pulled off a successful April Fools' joke, either in-game, on the Internet, or in person?