WoW
Apr 27, 2016 3:00 pm CT
Prepare your transmog collection for 7.0 with the Legion Wardrobe addon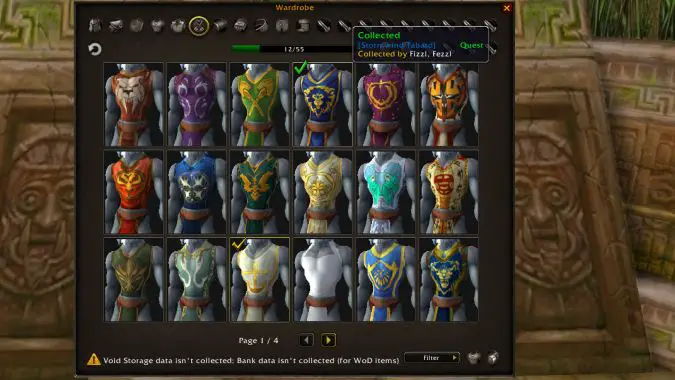 It's safe to say that one of the most anticipated features coming with Legion is the Wardrobe — the pet/mount-like collection system that will allow you to hold onto any item's appearance long after that item has been deleted. Since it was first announced, many players have wondered how exactly it will function and have been stepping up their collection game in preparation for its release. But, if you're like me, you want the Wardrobe now. Thankfully, the new Legion Wardrobe addon is the perfect solution to the long wait before the Wardrobe's official implementation.
The Legion Wardrobe is a nearly identical version of the Wardrobe currently featured on the alpha and functions exactly as you would hope it to. Simply log into all your characters (and make sure to open their banks and void storages) and the addon keeps track of all the items' appearances that you've collected. Keep in mind, the addon uses the same rules that the official Wardrobe will use, so if you have a cloth piece on your Warrior, don't expect it to show up as collected.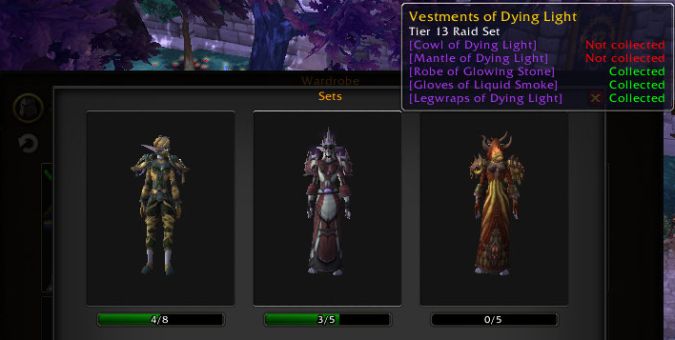 One of the features I really love about this addon is the fact that it has item sets built into its database and you can check which pieces you own (and which you're missing) from each item set. Given this feature has yet to make it into the official Wardrobe, I can see many transmog hunters holding onto this addon long after Legion's release. The addon also has a few other features such as Wowhead links, vendor info, and more that make it pretty much a must-have for even novice collectors.
You can download the Legion Wardrobe addon right now over at Curse. Happy transmogging!