Hearthstone's May card back features Shadowmoon Shenanigans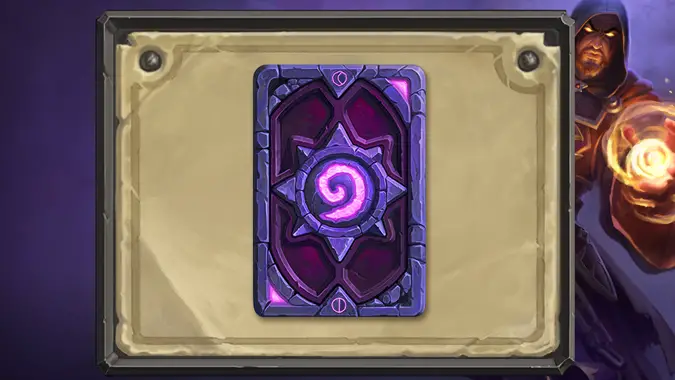 Hearthstone's May card back is here! The theme this month is Shadowmoon Shenanigans, and while the news post brings up Velen and the Wardens of Karabor, I don't know — I'm getting a Shadowmoon Orc vibe from this one, coloration aside. Taking the coloration into consideration, I think it's almost a nice mesh between the two, don't you? To earn the Shadowmoon Shenanigans card back, you just need to reach Rank 20 by the end of May.
Note that this time around, you can hit Rank 20 in either Standard or Wild mode — your highest earned rank in either one will count for the card back. If you're not playing Standard for competitive play, it doesn't matter, you'll still get the card back as long as you hit Rank 20 in Wild. As for hitting Rank 20, that's easy — you won't lose any stars under Rank 20, so all you have to do is play (and win) a few games here and there over the course of the month. If you want to keep playing after you hit Rank 20, you'll earn bonus stars as usual.
The further you move up that Ranked Play ladder, the more bonus stars you'll earn — one star per rank. And those bonus stars will roll over to the following month, getting you closer to Rank 20 right out the gate next season for whatever card back happens to roll out in June. Speaking of which — if you earned enough bonus stars last month to hit Rank 20 automatically this month, don't forget you still have to log in to qualify for the Shadowmoon Shenanigans card back, which will be rewarded to players at the end of the month.
Previous Hearthstone Ranked Play rewards
[envira-gallery id="34538″]