The Queue: What are you doing Edwin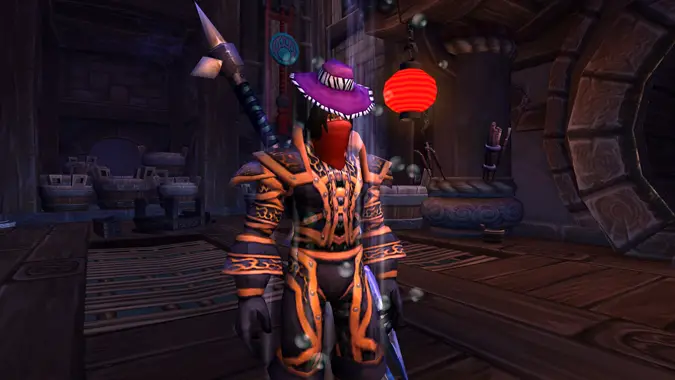 Welcome back to The Queue, our daily Q&A feature for all of Blizzard's games! Have a question for the Blizzard Watch staff? Leave it in the comments!
Edwin. What are you doing, Edwin. I'm pretty sure that's not how you wear a hat, Edwin.
---
BNDOV3R ASKED:
So, there was confirmation that Void Storage is staying with us. Talk about luxury problems:
Most of my characters have the biggest possible bags available on both theirselves and their banks. Combine that with 2 tabs of Void Storage, and that's quite a lot of item slots. As most of my item slots have been filled with transmog gear, and the new Wardrobe feature freeing all of that beautiful space, what do you reckon will people like me, collectors, go for next, to fill it all up? The Toybox already took care of plenty of items, and even though some things I think should be made into "toys" aren't yet, there's really not anywhere near as much of those kinda things to gather. Then the crafting material tab also gave us a lotta space we didn't use to have…
TLDR: What are we gonna fill our Bank with after we get the Wardrobe?
I don't really see that being a problem for me — I like to collect sets for roleplay, which means I'm picking up cloth gear for mail and leather wearing characters. They can't transmog it, but they can slap it on for roleplay events or just hanging around town. That's probably what's going to take up my Void Storage after the leather/mail gear clears out, honestly. Either that, or rock collecting. World of Warcraft has an astonishing number of interesting rocks in it.
---
BOLT OF CHAOS ASKED:
What's the state of Shadowform in Legion right now? Can it be turned on and off at will?
It's on by default, unfortunately, and there doesn't appear to be a way to turn it off. Honestly, I find that a little annoying, because I don't usually turn shadowform on unless I'm in combat on live currently — I like looking at my character's armor without the shadowy haze, and I like to turn it off when I'm taking screenshots as well.
---
CAPTAINCAKEWALK ASKED:
Q4tQ: It got me thinking, what kind of crazy/not-so-crazy yet fun (as if crazy ain't fun!) stuff are you all doing to pass the time in WoW?
At the moment, I'm quietly trying to hit gold cap before the next expansion comes out. It's not something I'm actively pursuing by playing the Auction House or anything, I'm just…doing my garrison missions, selling the good stuff that comes from salvage crates and the odd mission with awesome rewards. I'm a little over halfway there now, and a lot of it is luck-based (you never know what you're going to get out of those crates, sometimes it's junk, sometimes it's that one armor piece everyone wants for transmog), but it's fun in its own way.
---
MOURASAINT ASKED:
One thing I'm not entirely clear on is how zone-scaling in Legion affects the value of gear. Do mobs take gear into account when they scale to the player? Surely not, as that would make gear collection utterly superfluous?
Nope — they're scaling to your level, not to your gear, so it feels…well, it feels the same no matter where you go. Better gear means things tend to die a little faster. I imagine once people are kitted out in raid gear, things will die a lot faster. The end result is kind of interesting, because it feels a little bit like the world is leveling up right alongside you. Mobs are always challenging, and rewards are always significant. It's a really elegant system, one that I hope we see implemented elsewhere in the future.
---
QUANTONICA ASKED:
A simple question fro the Que. How big is the Legion areas compared to previous expansions like Pandaria or Northrend?
It feels about the same size as Pandaria or Northrend — and it feels a little bigger than Draenor, honestly. Zones look deceptively small on the maps until you get in them and realize how much stuff there is to explore. Zones like Highmountain appear to look a little smaller until you start climbing all the mountain peaks and realize that a lot of the space in the zone is vertical rather than horizontal. There is a lot of new scenery to explore.
---
ALEXANDRECLERM ASKED:
Q4tQ I've been staying pretty far from anything Overwatch over the past months and the beta, partly because I didn't think I'd like it and partly not to overhype myself if I did (like with Legion..). But then I played the Open Beta last weekend and now I'm going absolutely nuts lol.
Anytime I wasn't playing last weekend I was reading the lore articles you guys posted and was wondering, where do you find all this lore? Is it all only from the character bios on Overwatch's site and the webcomics??
It's from character bios, descriptions, in-game maps, voice interactions between characters, all cinematics, comics, the news releases that came out with new hero introductions — basically every piece of promotional material. Piecing it all together into one cohesive whole is a little more difficult — that's why I've been writing those lore columns over the past couple of months, so we have some kind of consolidated idea of the story in one place. Hopefully it's helpful!
And if anyone else is going through Overwatch withdrawals and wants something to occupy their time, I think there's currently a dozen Know Your Lore columns or so dedicated to the game.
That's it for today's Queue — if you have any questions you'd like to see answered, be sure to leave them in the comments below!