Widowmaker Nova skin available for purchase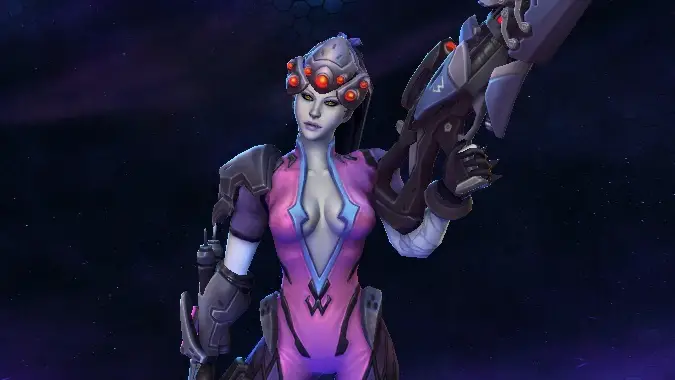 In a tweet earlier today, the Heroes of the Storm development team announced one of the more highly anticipated skins in Heroes history is finally going live. As of this morning, you can now purchase the Widowmaker skin for the Nova hero.
Her voiceover lines are the same as always, but without the reverb effect Nova usually has. This is a bit odd to see in action, as that French accent is such a part of Widowmaker's character. All of a sudden, she sounds exactly like Nova. However odd that is, though, it's not quite as odd as how her face ends up looking. Overwatch's exaggerated, large eyes in general, and Widowmaker's heart-shaped face in particular look a bit weird laid over Nova's skeleton, if more realistic. Widowmaker will also lower her spider-eye visor when attacking, which makes her look much more like herself.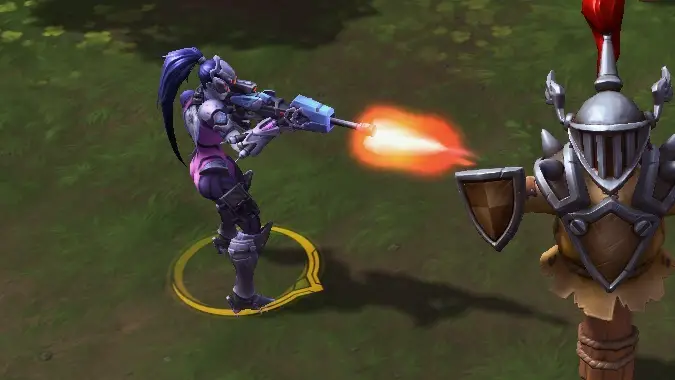 Widowmaker's color variants are pretty fun, too. She has her usual purple-and-red black widow spider skin, of course. Her variants both feature different deadly animals — a green and red skin with a viper tattoo across her back, or yellow and black with a wasp.
The skin itself is $9.99 USD, like most of the other Epic skins. You can currently purchase a slightly discounted bundle with the Nova hero thrown in for $13.86 USD.
Nova isn't the most effective hero in the game, but now when you kill Tracer, at least you can do so in style.