Giant Overwatch action figures appear in Hollywood, Paris, Busan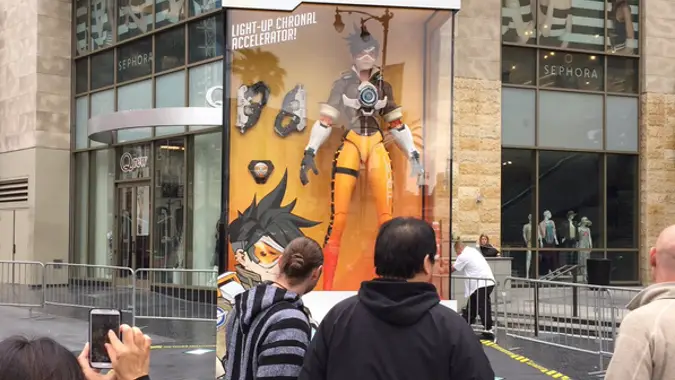 Yesterday, the Overwatch team teased something big happening in Hollywood, Paris, and Busan — and big is the operative word. An enormous Tracer statue in action-figure style has appeared on Hollywood Boulevard. Genji is in Paris and Pharah is in Busan. Why D.Va isn't the one rocking out in South Korea, we wish we knew. Pharah's power armor is probably easier to replicate than D.Va's mech. Given the relatively slender Tracer weighs over three tons, D.Va's mech would be a monster to move.
The image at the top of this post is courtesy of @RuzgofDi via Twitter. He sent it to us along with a few additional photos:
@BlizzardWatch Tracer sighting in Hollywood. #Overwatchpic.twitter.com/tTMjyLY2xr

— RuzGofDi (@RuzgofDi) May 20, 2016

Mamytwink, a French content creator in the Blizzard games community, has also tweeted pictures of Genji.
Une superbe statue de Genji déployée au pied du Centre Beaubourg à Paris ! #Overwatchpic.twitter.com/iMT3OpgboV

— Mamytwink (@mamytwink) May 20, 2016
Pictures of Pharah have yet to surface, but given timezones, it's possible our agent in Busan is still being assembled. The teaser tweet lists Busan's debut at 12:00 p.m. KST on May 21, which translates to today, May 20, at 10:00 p.m. CDT.
The Tracer statue was designed by Steve Wang's studio — creators of the Tracer statue seen at BlizzCon last year, the Kerrigan statue outside of Blizzard's Versailles campus, and numerous other statues for Blizzard Entertainment and others in the industry. Though these Overwatch statues use an action figure motif, it's unknown whether or not these will become actual toys down the road. Certainly, if they do, they won't be 20 feet tall.
If you can't take a jaunt down to Hollywood to see Tracer in person, you can check her out on EarthCam's Hollywood Boulevard livestream.
Oh my GOD. #Overwatch @Malkythera pic.twitter.com/UCuMjGnkSp

— o.o (@LanoomAES) May 20, 2016