Tempest's Dreamhack win leads big roster swaps in Heroes esports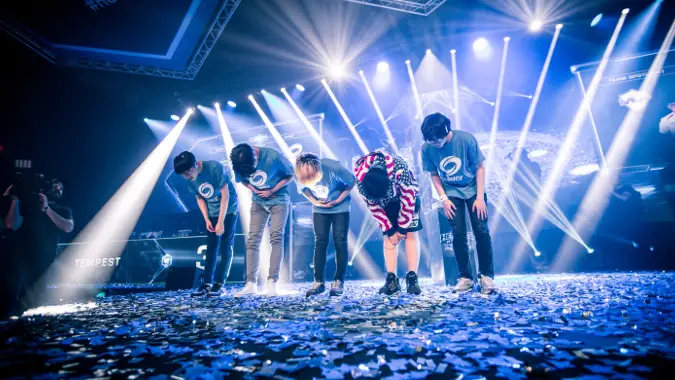 Last week's final series between Tempest and MVP Black was hailed as the best Heroes of the Storm matches ever played by many, with very close matches across the 5-game series. After the nailbiting 3-2 win by Tempest, all the teams left Sweden (hopefully more smoothly than they arrived) and started making their plans for the fall season. Blizzard released a tentative schedule for the qualifiers we'll be following, all the way up to the grand championship on stage at BlizzCon this November. Mark your calendars: the first qualifier for North America, announced by ESL today, happens in just two weeks on July 10th. The schedule also features mainstream gaming events like Gamescom in the EU and PAX Prime in NA. It's bound to be an exciting fall for Heroes of the Storm. It's even heating up before the season starts, with roster swaps galore.
Behind the cut, we'll discuss how our favorite North American teams look going forward.
Gale Force Esports
In a blaze of drama, tank play Fury expressed his displeasure at being cut from the team after a slightly disappointing end to the season. Fury contended that he was cut for "having a girlfriend" while the team statement suggested that his competitive spirit, or lack thereof, left something to be desired. They haven't yet announced who Fury's replacement will be, though there are several candidates to consider from the roiling pit of roster changes.
There is no ETA on a new GFE branded hair pick for Khroen after he relinquished his to Tempest's Duckdeok.
Team Naventic
Tank player McIntyre was cut, with no announcement as to a replacement to date. Naventic showed relatively well at the global championships, but failed to enter the final championship bracket.
The tank role seems to be taking a particular beating this off-season.
Cloud 9
Disbanded. RIP.
iDream officially retired. Dunktrain, k1Pro, and KingCaffeine are free agents — for now.
Brain Power
After Cloud 9 disbanded, they made the hard choice to bring Cattlepillar back from the fallen team, cutting CauthonLuck in the process. It's fairly likely their name will change in the future if they're picked up by an official organization.
Tempo Storm
On hiatus after the second NA qualifier. Their support player Zixz just retired, making this team into a trio, and without the benefit of their manager Zoia. It remains to be seen whether this esports juggernaut will fill their spots or just call it quits.
Panda Global
Support player Yuuj is now a free agent.
Meanwhile, out of EU, Dignitas made an announcement that made lots of hearts drop.
If you're looking for some Heroes gameplay this weekend, I'd suggest taking a look at the MissCliks charity stream. Ryan's Case For Smiles is a good cause, and they'll definitely have some fun while they're at it.