Gul'dan, Auriel, and more confirmed for Heroes of the Storm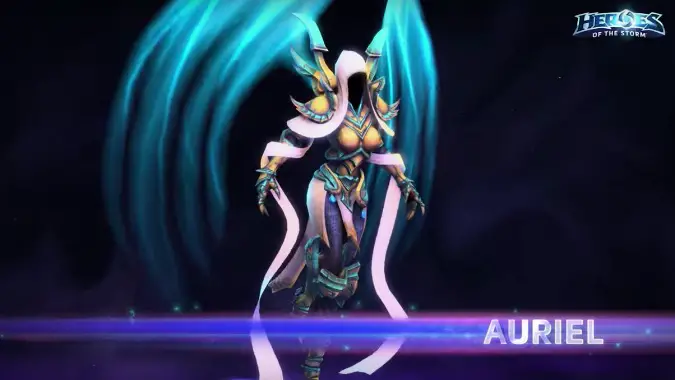 The Heroes of the Storm team has been teasing Gul'dan for a few weeks and Auriel for a few days, but now it's official. These "powerful paragons of light and darkness" are on their way to the Nexus, with Auriel confirmed a new Support hero. As is typical for new heroes, each will launch with a unique skin (in addition to base and master skins): Gul'dan gets a Bladespider skin while Auriel gets a (somewhat typical for Diablo heroes) Demonic skin.
And if you had cash burning a hole in your pocket, there are more mounts plus Mystic Kingdoms Arthas, Spellbreaker Johanna, and Striker Li-Ming.
The downside, though, is that we still don't have any details about these upcoming heroes — but we may not have long to wait. The Heroes team keeps a pretty fixed three to four weeks between new heroes, and which means we're likely to see Gul'dan soon. If we keep with the typical schedule, we'll probably see him on the PTR the 5th and the live game on the 12th. And if we don't keep to a typical schedule… well, your guess is as good as anyone's.
The only thing we do have a specific release date for is the Elemental Lizard mount, which is a reward for ranked play season one. The season is due to end on August 23, so if you want a lizard friend to call your own you need to get to Platinum Hero League or Bronze Team League (with the epic mount available at higher levels).
And not to draw attention away from the heroes of the hour… but that volleyball Li-Ming. I don't think anyone was surprised to see Azmodan's basketball-themed Azmodunk skin (if you were/are surprised, just watch this until you aren't), but I definitely did not see this Summer Olympics-themed skin coming. And it totally works. I'm looking forward to seeing plenty of Azmodan and Li-Ming sports teamups moving forward.
In the meantime, keep your eyes peeled for more details on Gul'dan and Auriel as well as release dates for these heroes, skins, and mounts.