Breakfast Topic: My Hunter At 100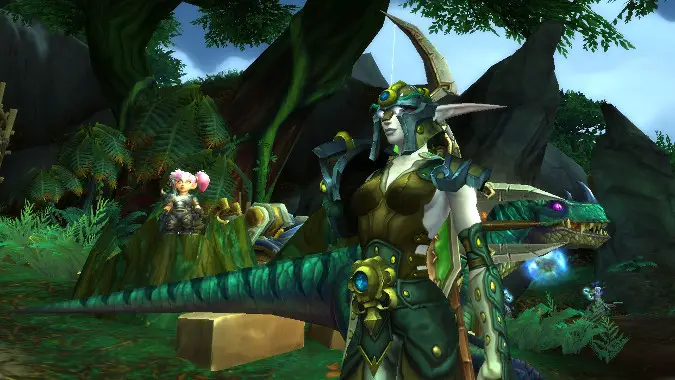 I won't pretend that this is the result of hard work. No, my Hunter is at level 100 because I pre-ordered Legion and finally spent the boost. And that's why I enjoy the character, and also why I'm utterly terrible at her.
It's not that I don't think she's fun — she's actually a lot of fun, even when playing with my wife on her Warrior (my wife's got original Alpha cred as a Hunter, so while I do enjoy being able to needle her about how she plays a Warrior wrong, I don't enjoy the inverse as much).  I enjoy taming new things, like my raptor Dakota in the header image, and I really enjoy how much easier it is to fight big elites that would likely give my Warrior a hard time. Just hit Mend Pet in between my other shots and Dakota tanks like a champ.
In fact, that's kind of my problem with the Hunter so far. It's absurdly easy to be okay at the class, and because I level boosted her, I don't know enough to be exceptional at it. In fact, I'm barely even okay despite what I just said. I had to be reminded like six times that Misdirect exists, and even then I tend to use it and then hit Cobra Shot, which is the worst thing I could possibly do at that moment which isn't just mooning the target. My rotation is a mess. Kill Command is there begging me to hit it and I forget and throw glaives at something instead.
Overall I feel happy that I finally have a ranged character at max level, but I definitely won't take it into LFR or dungeons — no way am I subjecting a group to the spectacle of me on a Hunter. Do you feel like level boosts need to be better at teaching the class, and do you think Legion will achieve that with the trials system?