WoW
Aug 2, 2016 1:00 pm CT
Transmog Tuesday: Mismatched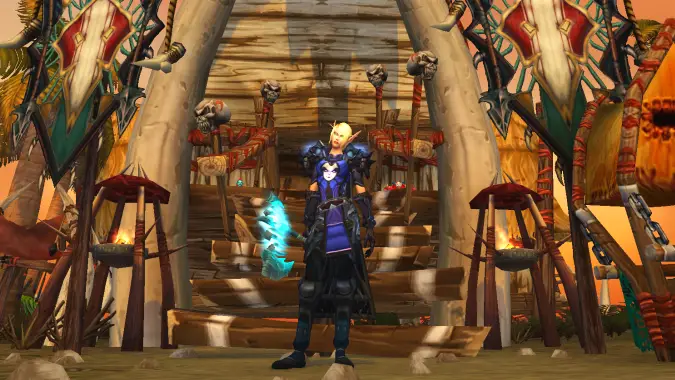 It's Transmog Tuesday, everyone! That's right, with the Appearances system alive and kicking in WoW, there's never been a better time to show off your fantastic fashion collection — and that's exactly what we're here to do! Every two weeks, we'll be debuting a new theme to base your transmog set around. When a new theme debuts, we'll be picking some of our favorites from the previous entries and showing them off for everyone to see.
This week's theme: Mismatched. See my Blood Elf Paladin above? She's wearing Death Knight gear with a Forsaken tabard and hanging out in a Troll village. Use her as inspiration, and show us the best mismatched outfit you can come up with — don't be afraid to get creative! There are a few rules, though, so be sure to read on after the break.
Official rules:
You must actually be wearing the transmog to be featured. You're welcome to share sets from Wowhead to help get ideas or ask for advice, but only in-game screenshots will be featured on our next post.
Please submit UI-free (alt+Z) screenshots and list which pieces you're using via Wowhead's dressing room so others can collect for themselves. For example, my Paladin above is using the set found here.
Save replies for discussion/feedback, not entries. I'll still be combing through all the comments, but it's harder to overlook an entry if it's your main post.
Entries will be accepted until 12:00 p.m. PST Monday, August 15th. You're welcome to show off transmog after this point, but it won't have a chance to be featured.
Be original. It's fine to use others' ideas as a springboard, but please don't take someone's else's transmog and change one or two pieces. That's super uncool.
Be creative and have fun!
I'm looking forward to what you all can come up with! And if you have any requests for future themes, drop them in the comments!