The Queue: Rocks for brains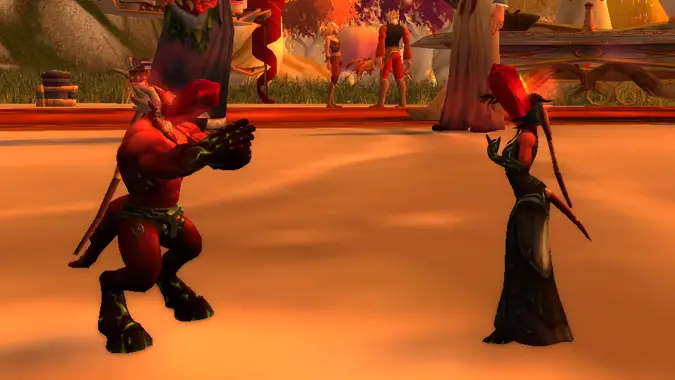 Welcome back to The Queue, our daily Q&A feature for all of Blizzard's games! Have a question for the Blizzard Watch staff? Leave it in the comments!
Combining the Jewel of Hellfire with the Whole-Body Shrinka' makes for some interesting, if incredibly uncomfortable looking results.
---
CHEMICALELLIS ASKED:
So, Arthas and Uther. Retribution or Holy?
The big lore heroes typically don't have one spec — they've got aspects of all of them. I mean…Malfurion is almost a literal interpretation of that, what with all the assorted animal parts. I'd say however that Uther probably leaned more towards Holy, and Arthas felt more Ret than anything.
---
NRFHERDER ASKED:
Q4tQ: Where do you find out what things to do right out of the gate to get ready for flying?
The overall achievement is in your Achievements tab under Exploration/Legion. Keep in mind that the achievement is labeled "Part One" — that's not the final achievement, but completing it gives you increased mount speed in the Broken Isles, and Part Two will presumably be released in a later patch.
---
JBARNOLD ASKED:
Q4TQ:  A guildie says in beta you only had to do the khadgar intro quests once, and could skip on subsequent toons. Is that going live or should we get these intro quests out of the way now on all our alts?
You'll be able to skip the quests, but that won't be implemented until Legion is released. If you'd like all the rewards, go ahead and complete them on your alts — if you don't really care about or need the rewards, you can safely wait till Legion is out, and skip them. You only have to complete it on one of your characters.
---
PHILSTER ASKED:
Hmm.  So how is getting to Pandaria done now, anyway?
My level 94 night elf warrior never got the quest to tell him to go to Stormwind Keep to get the quest to go to the ship that would take him to Pandaria so I took the initiative and went there.  Anduin had the quest for me to go to Twilight Highlands via Fargo Flintlocke, but nothing else.
Check out the Warchief's Command or Hero's Call board in your faction-respective major city. If you haven't gotten to Pandaria yet, the quest should be available there.
---
ALPHA5099 ASKED:
Do Cata portals just automatically unlock now? I knew my boosted hunter had them already, but I thought that was just part of the boost process. My invasion-leveled 100 warrior went to go unlock them and I found out she knew them all.
They do! It's a recent change, and pretty handy for fast travel. You do have to be an appropriate level to access them, though — they aren't unlocked for lower level characters.
---
PUMABACKUP ASKED:
If What class/spec do you think exhibits that "blast enemies with raw nature" feel that I'm looking for the best? Balance Druid? Enhancement Shaman? Some other class/spec I haven't tried, like Elemental Shaman?
You should absolutely try Elemental. They updated the spell effects and sounds for lightning-based spells, and it's immensely satisfying to fling lava and storms around like they're nothing. Balance Druids are also fun, but they don't quite have that "blast enemies with raw nature" feeling as much as Elemental does. They feel more focused on the sun and moon, while Elemental is flinging around fire and lightning, calling up earthquakes, summoning elementals and everything else.
That's it for today's Queue — if you have any questions you'd like to see answered, be sure to leave them in the comments below!