Breakfast Topic: Your Legion tips and tricks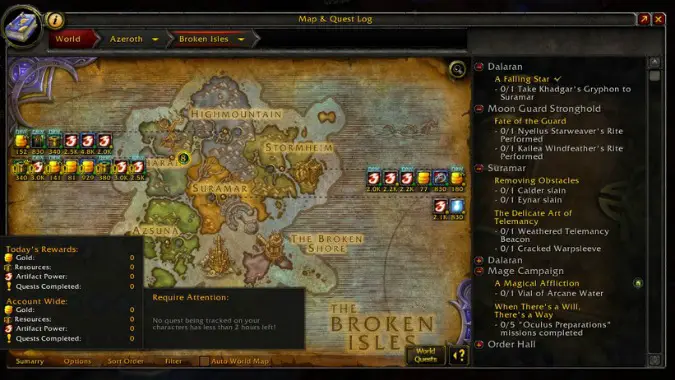 So in yesterday's Breakfast Topic I complained that I couldn't get to other Legion zones easily because I had chosen Highmountain as my initial leveling zone. And it was pointed out to me by a helpful commenter that you don't have to finish your Pillars quest to chose another zone off your Class Hall Missions table and get a free flight point in that zone. Oh, well…who knew?
And that got me thinking, what other useful tips and tricks have you all discovered in your initial journeys into the Broken Isles? Our very own Mitch (the Fizzlr himself) is a big fan of World Quest Tracker addon to get a better handle on which World Quests are available, especially since not all of them are showing up on the UI.
Also this from our EiC Alex Ziebart as a warning to all Warriors: "Keep Hymdall as an active follower while doing the Warrior class campaign. Don't question it. Just keep him active. You'll regret if you kicked him to the curb like I did." Turns out this follower is required for a later class mission and he must be high level for it so start working on leveling him now.
Any great tips and tricks to share with your fellow players to make their Legion adventures a little smoother?
Save