Breakfast Topic: World Quests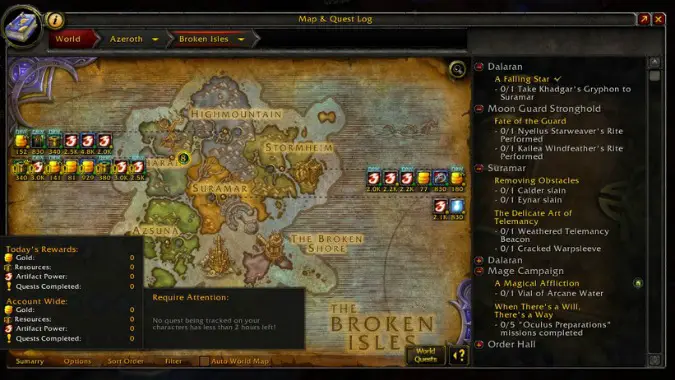 There's been enough time since Legion launched — ten days– to start getting into World Quests, and I'm curious as to what you all think of them. For me, I generally like them, but I've had a few experiences I didn't like while running them. Sometimes the mobs seem a trifle thick on the ground, sometimes they're almost impossible to find because everyone is taming Withered.
The basic concept of World Quests isn't that different from what we had on the Isle of Quel'Danas or even Mists of Pandaria's reputation questing. It's just distributed a lot better, and with neat side options like the Emissaries and not having to go to a quest hub. It's a really nice change that I'm surprised didn't happen years ago.
At the same time, though, I do feel sometimes like I have to try and at least hit two Emissaries worth of World Quests in a day if I've been offline for a day or so — like, say, after I got my eye injections this week — and I think maybe I need to learn how to manage my approach to them better. Also, so far every Warden World Quest has felt pretty awful to me. These guys have been hard. I know I'm still sub-800, but with dungeon queues the way they are that's not likely to change for a bit, so I'm just working on it as best I can.
With Suramar in game, I often feel like I can't really pursue the storyline and do the World Quests, and so I turn to you — how are you liking them? Do you feel any conflicts?