BlizzCon 2016 Early Access sale now live!
Updated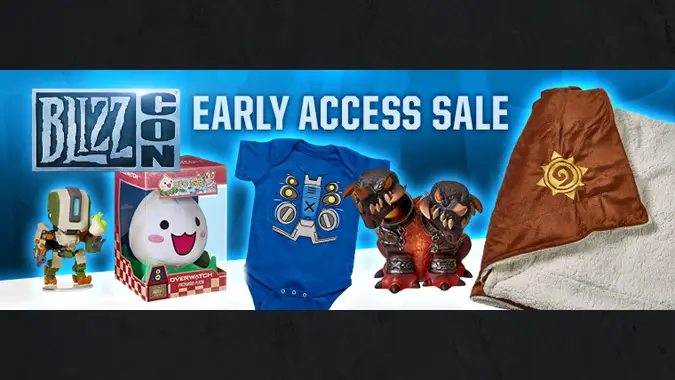 Update: The sale is now live for BlizzCon ticketholders and virtual ticketholders. You'll need to be logged on to the Battle.net account that has the ticket to see the store. If you don't yet have a ticket, you can grab one now for access to the sale.
With BlizzCon 2016 just around the corner, that means that the BlizzCon 2016 Early Access sale is even closer — this Wednesday, in fact. This year's BlizzCon sale features all kinds of new merchandise from all of Blizzard's titles. If you're wondering what's new, Blizzard released a sneak peek at several items earlier today via Facebook.
The Cute but Deadly Blind Vinyl collection is coming out with a second series, adding Overwatch characters into the mix. Pins this year have been upgraded — gold pins aren't just gold, but three-dimensional. If you want to be extra cozy this winter, the new Hearthstone blanket should be right up your alley. And everyone's favorite bird makes a return with the release of Ninja Pepe. Pepe comes with a hood and removable sword, just like his costume in game.
Blizzard has also added some new apparel to the lineup, including a series of pretty and functional game-themed shrugs, as well as a new Tracer-themed jacket and leggings. Tired after a long day of gaming? Wrap yourself up in a Cute but Deadly murloc robe. And don't forget the slippers — the new murloc slippers actually make sounds with every step.
The BlizzCon 2016 Early Access sale is available to BlizzCon ticket holders, and people who have purchased the Virtual Ticket. If you've purchased a Virtual Ticket, your account should be automatically flagged for access to the sale. If you're attending in person, you should already have a code for this year's digital bonuses — redeem the code (if you haven't already) to gain access to the sale. And if you're not sure what you want to buy, don't worry — the sale runs from October 12 to November 6.