Are World Quests too repetitive?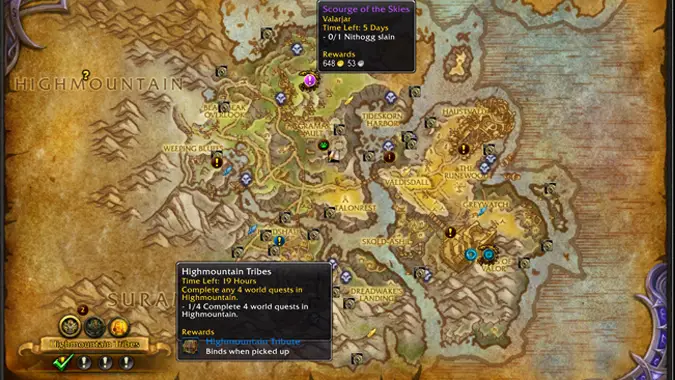 World Quests are a big chunk of my WoW gameplay right now. I've done exactly one Mythic dungeon, I raid normal on a very limited schedule. Aside from that, I'd say close to 80% of my time in World of Warcraft right now is either spent doing the Suramar questline, or doing whatever World Quests I have available, especially if there's an Emissary up for me.
I definitely like the freedom and potential for gear in World Quests, especially when compared to dungeons. I understand that with Personal Loot I'm not actually getting less gear than I would have in dungeons before that system came along. But there's a psychological element to seeing loot drop, even if it's not for you, versus just getting nothing. (And yes, dungeons now display what other people got, but it still feels different.) When a World Quest shows you a piece of gear on the map, you know that when you do that quest you'll get that gear. Even better, when you do, it might even be a lot better than the displayed item.
But one thing I've noticed is that after a month, I'm not seeing many quests I haven't already done. Quite a few times, in fact. So I have to ask you all — are these quests too repetitive? Do we see the same ones too many times? Are you looking forward to 7.1 and its promise of new World Quests? Or are you happy with the way the system is now?