WoW
Oct 19, 2016 3:24 pm CT
Hallow's End comes with new tricks and treats this year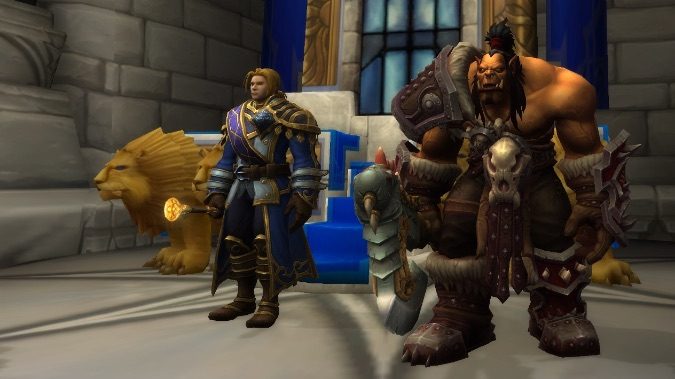 Hallow's End has returned, and while the event follows the same basic format — collect Tricky Treats at inns around the world, fight the Headless Horseman for his probably non-existent mount drop (if my luck has anything to say about it) — there are a few additions this year.
A Grommash costume for 200 Tricky Treats.
Daily Quest Under the Crooked Tree, rewarding you with Hag's Belongings which can contain some cool (but non-transmogable) hats: Hat of the First Sister, Hat of the Second Sister, Hat of the Third Sister, and Hat of the Youngest Sister.
Ominous Pet Treats which turn your battle pets into terrifying (yet adorable) void creatures for 5 Tricky Treats.
835 gear from the Headless Horseman. Though you'll find better from World Quests, you'll want to kill him for a chance at the mount anyway. Plus he's a total pushover, so taking him out won't be much effort. (Note that you can also still get weapon drops from the Horseman, and even though they're rather useless this expansion you may still want them for transmog.)
The Shade of the Horseman, who attacks low level areas — Azure Watch, Brill, Falconwing Square, Goldshire, Kharanos, and Razor Hill — now scales to level. While this won't make any difference to lowbies, it means higher level players can no longer one-shot him.
A banshee wand for 2 Tricky Treats.
However, you won't find any new candy buckets in the Broken Isles — except in the inns in Dalaran — or an associated achievement.
But even if you aren't hyped about this year's additions, there are a ton of rewards — so you may want participate to pick up pets (and pet costumes), wands, heirloom upgrades, delicious candy, and more. If you're not familiar with this massive event, head over to Wowhead for a guide on how to do absolutely everything.
And, of course, happy Hallow's End!