What kind of transmog do you love?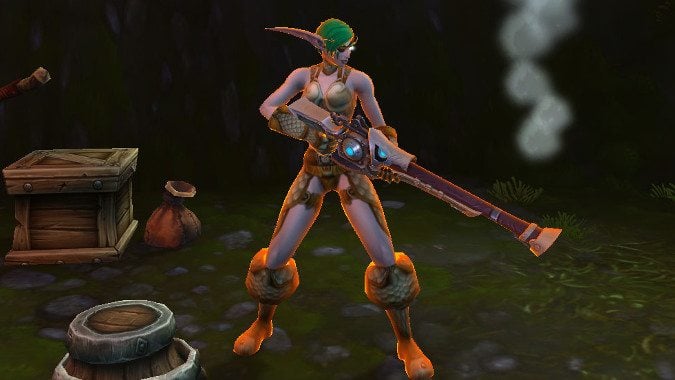 I love transmogrification in World of Warcraft. One of the reasons I like it is that I can look incredibly silly, if I so choose.
The mog pictured above is a matching set of old green mail pieces, the Combat Mail set. There's a gold recolor of it, but I prefer this version. It's very old school — I was originally wearing it on one of my Shaman characters — but also it's utterly ridiculous on a female Night Elf (or any female character, really) and for some reason the idea of wearing chain hot pants and whatever that top is supposed to look like. It's ridiculous and I love running around with my two wolf pets and that outfit. I feel like even the wolves would be wondering if I was cold in that get up.
I've done other things with transmog — I've put together some blatant clownsuits for my Warriors or my DK's, for example. I'm not one of those players who gets mad I can't transmog to fish for weapons or what have you, but I do enjoy pushing the envelope on just how silly I can get from time to time.
How about you? Are you always serious when you transmog? Do you require all your sets to match? Do you prefer tier sets? How are you mogging your characters?