WoW
Feb 14, 2017 4:23 pm CT
Flying and Mythic+ changes live on WoW patch 7.2 PTR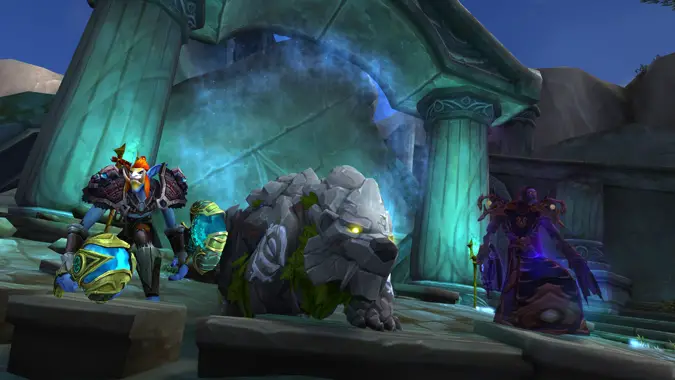 The patch 7.2 PTR just went offline for a new build, and when it returns it will feature flying, class mount quests, changes to Mythic+ affixes and rewards, and the Cathedral of Endless Night dungeon. We knew most of this was coming, but the Mythic changes are a surprise — and, at least to me, a welcome one.
Now Mythic+ dungeons reward more Artifact Power depending on the length of the dungeon. That means you'll get less AP for running a quick Maw of Souls and more AP for slogging through Halls of Valor. You'll also receive bonus AP in your weekly chest based on the highest level Keystone you cleared during the week. The goal is to give you better rewards for time spent and encourage playing higher level Keystones instead of just running Maw of Souls +1 all week.
We'll also be getting some new affixes — Bursting, Fel Explosives, Quaking, and Grievous — as well as tweaks to existing affixes — Bolstering, Necrotic, Skittish, Fortified, Tyrannical, and Sanguine. To top it off, Overflowing (my most hated affix) has been removed completely. Lore didn't offer any insight as to why, but I wonder if it was because it was a big challenge for healers but didn't necessarily require anyone else in the group to change up their playstyle. As a Mistweaver Monk, I avoid this one because my toolkit seems to be geared towards overhealing — between Gust of Mists and Soothing Mist alone, I'm practically guaranteed to overheal, even if I could put together a gear set with zero Mastery.
For all the details on the latest PTR build, see Lore's complete notes below.
We're ready to start testing flying on the Broken Isles, as well as the quest chains to earn your Class Mounts. The actual processes to unlock these features are still in development, so for testing purposes, we've added a temporary NPC in front of the Menagerie in Dalaran that will grant you both parts of the Pathfinder achievement and start you on the quest to earn your Class Mount. Please let us know if you encounter any areas around the Broken Isles where flying isn't working properly (e.g., getting dismounted in midair), or if you have any issues with the Class Mount quests.
7.2's new 5-player dungeon – the Cathedral of Eternal Night – is open, and should be available for testing in its entirety. Please let us know what you think!
This build also has a significant number of changes and improvements to the Mythic+ system:
Mythic Keystones can now direct you to three new dungeons: the Cathedral of Eternal Night, Upper Karazhan, and Lower Karazhan.
Several new affixes have been added to the mix: Bursting, Fel Explosives, Quaking, and Grievous.
Bolstering, Necrotic, Skittish, Fortified, Tyrannical, and Sanguine have been adjusted, and Overflowing has been removed.
Some boss and trash mechanics have been adjusted (for example, Seagulls will now grant Enemy Forces credit in Eye of Aszhara).
For PTR testing, Flaskataur in Dalaran will sell a Keystone Container, and affixes will be on a 4-hour rotation (instead of weekly).
On top of those changes, we've re-adjusted the way that Artifact Power is awarded from running Keystone dungeons, with the goal of better rewarding you for the time it takes to complete each dungeon. Longer dungeons such as Halls of Valor will now award a proportionately higher amount of AP, and shorter dungeons such as Maw of Souls will award proportionately less.
In addition, we've added an Artifact Power bonus to your weekly chest, which increases based on the highest level Keystone you completed. You'll earn the largest AP bonus for completing a Level 10 or higher Mythic Keystone. Our goal here is to shift the AP rewards from Mythic+ slightly more in favor of completing higher-level Keystones, and less toward endlessly farming lower-level ones. This should also greatly increase the amount of Artifact Power you can earn on alts without requiring as much direct time investment.
Notably absent from this build are the new Broken Shore World Bosses, as well as a few improvements to the process of acquiring Legendaries. We'll have more details on those changes as they get closer to implementation.
And for those worried about datamined numbers for Artifact Trait costs and Artifact Power gains, don't panic — yet. Blizzard hasn't finalized what these will be yet. Currently, Trait costs increase exponentially while AP gain increases linearly. Blizzard aims to have these be a similar difficulty to earning Traits now, and we should see actual numbers in the next build. Read his full comments on Traits and AP for the details.