WoW
Jan 27, 2017 8:00 pm CT
Soon you'll be able to get Legion flying with Broken Isles Pathfinder achievements
Updated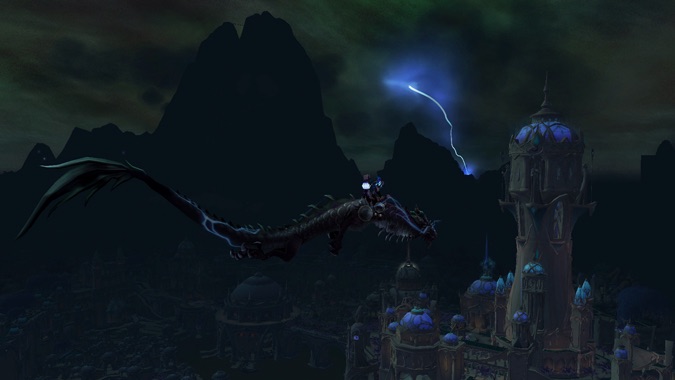 Remember the flying controversy around Warlords of Draenor? When Blizzard said, before release, that we'd be able to fly in Draenor after launch (possibly as late as patch 6.1)? And then they said we wouldn't? And then they turned around and said we would again? With Legion, Blizzard's trying to avoid making the same mistake twice and already has a plan for unlocking flying: Broken Isles Pathfinder.
As in Warlords, the Pathfinder meta achievement requires you jump through some hoops to unlock flying (which will then be unlocked for all of your alts). And though we don't yet know exactly when we'll get flying, it's coming soon… or at least soon-ish. We don't have a date for flying's arrival with patch 7.2, but Blizzard has been pushing out patches about two months apart, which would place the next patch in March. However, Blizzard hasn't confirmed anything, so take this guess for what it is — a guess.
Whether patch 7.2 launches sooner or later, there's still time left, but don't wait too long if you want to get flying as quickly as possible after 7.2 launches.
Update: This post was originally published during the Legion alpha, but has been updated to reflect what we know about flying in patch 7.1 and 7.2.
The first step to flying
Step one is conveniently labeled Broken Isles Pathfinder, Part One. Similar to Draenor Pathfinder, it requires players to:
The disappointing rewards from Part One
Unlike Draenor Pathfinder, the reward for completing the first Broken Isles Pathfinder achievement isn't flying — it's increased ground mount speed. When the achievement first appeared in an alpha build, the forums were packed with complaints. However, Ion Hazzikostas (Watcher) took to the forums to clear things up, explaining Broken Isles Pathfinder Part One is part of a larger plan.
"The underlying philosophy here is: explore and master the outdoor world on the ground, in order to unlock the ability to soar above it freely. This time around, since we have our design in place from the start of the expansion, we want to give players as much advance notice as possible, and allow everyone who cares deeply about unlocking flight to understand the requirements and begin progressing towards them immediately."
While part one of this achievement is as much of a time investment as the whole of Draenor Pathfinder, Hazzikostas says that this first step will be "a significant majority" of the work required to unlock flight.
Broken Isles Pathfinder Part Two coming in 7.2
The next part of the flying achievement will be heading our way in patch 7.2, but bear in mind that we don't have an official release date yet. In addition to flying, the Legionfall campaign will reward you with a new class (and sometimes spec) specific mount to fly around on. Or just ride around on if you haven't finished the rest of the achievements yet.
While the Broken Isles Pathfinder Part Two is not yet live on the PTR, we know the basics:
If you haven't already made a start on these achievements, Wowhead has a great guide for Part One and Part Two (or as much as we know about Part Two so far), plus a tool to check which parts of the achievement you have left. Without the ability to test it out on the PTR, there's no saying how long the Part Two achievements will take — or whether everything could change before this goes live.
We'll keep you up to date as we know more.