Patch 7.2: Sets tab coming to transmog UI with related achievements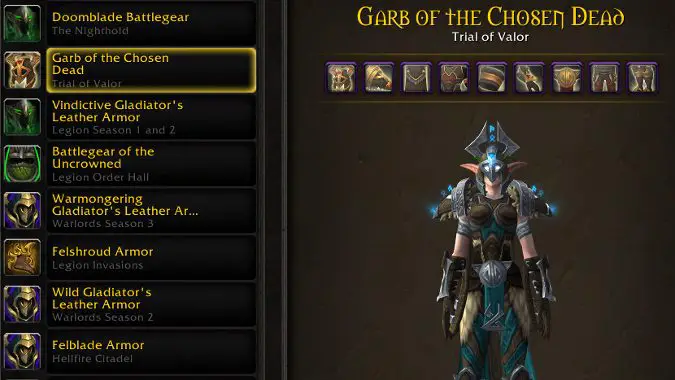 In a new blog, the World of Warcraft team discussed some changes to the transmogrification system coming in patch 7.2. Each past raid tier and PVP set will now be displayed in a new Sets tab in the transmog UI. In the past, you'd have to assemble and save these sets on your own, but now it's just one click to swap from Faith to Transcendence the first time you visit the transmog vendor — provided you've already collected them.
The UI will also show you how to obtain each piece you may be missing. This is especially useful for things like world boss drops or vendor-related tier pieces. Normal transmog rules still apply, so your Warrior can't deck himself out in Paladin-specific Judgement or that super cute leather Grizzly Jerkin.
Wowhead also notes several transmog-related achievements coming in the latest 7.2 PTR build. Many of them seem to be related to the changes discussed in the blog, since they involve acquiring full sets of appearances from old raids. My personal favorite is Azeroth's Next Top Model, but Yaass'shaarj is a close second.