Nighthold raiding tweaks in latest WoW hotfixes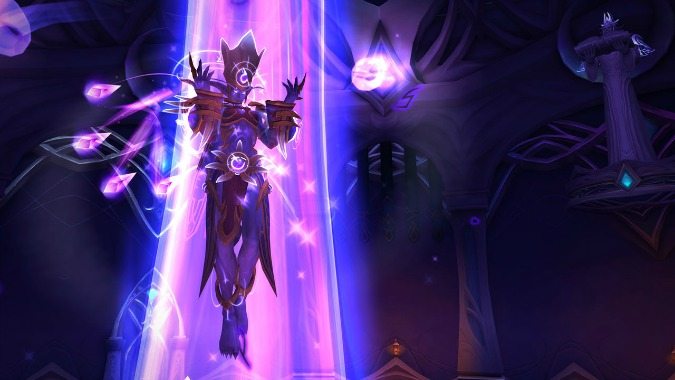 Last night's hotfixes were a grab bag of small bug fixes for various classes, quests, and professions, plus changes for Grand Magistrix Elisande, the final boss in wing 3 of the Nighthold raid.
Her Cascadent Star attack that does massive splash damage has had that damage increased (20%) and its cast time significantly sped up (40% faster). This is slightly offset by a 10% nerf to her health. Given that her health ping pongs between 10% and 100% between all three phases of the fight and the damage of Cadcadent Star scales accordingly, the raid healers are going to be in for a wild ride with this buff.
Here are the full notes:
Originally Posted by Blizzard Entertainment
Hotfixes
Class
Druid

Ferocious Bite works correctly if cast with less than 50 energy while Omen of Clarity is active.

Paladin

Fervent Martyr's spell highlight correctly displays at 2 stacks of the mana cost buff.

Shaman

Primal Elementals despawn if you change talents.
Dungeons and Raids
The Nighthold

Grand Magistrix Elisande

Elisande's health has been reduced by 10% on all difficulties.
Cascadent Star is now cast approximately 40% more often than before on all difficulties.
Cascadent Star's damage has been increased by 20% on all difficulties.
Player versus Player
Monk

Double Barrel's stun effect now gains benefit from the Smashed artifact trait.
Professions
Alchemy

(Hotfix in testing) Crafting an additional Infernal Alchemist Stone at rank 3 will no longer consume double reagents.
Quests
Players who have begun the Nightborne Insurrection storyline without having previously completed "Building an Army" will now have the quest available to them from Thalyssra.
(Hotfix in testing) Players should no longer get into a bugged state if they logout or accept a queue during the final event of the Archaeology quest "Laying to Rest".