Did you get the legendary you need?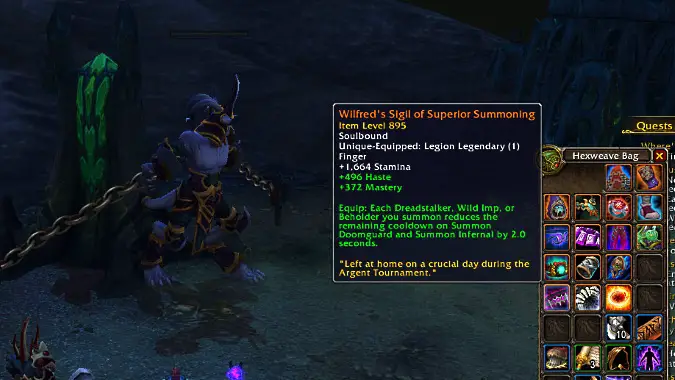 I have a love-hate relationship with Legendary items in Legion. I'd go so far as to say it's the system I enjoy the least and don't want to see repeated the most. I understand what they were going for, but Diablo 3 style loot only works if you commit to it, as we saw originally in Diablo 3 when it launched with the RMAH and didn't have the oomph players wanted. The way Legendaries have been implemented in WoW, they don't drop enough for you to really feel the 'ooh, cool' feeling of seeing one hit the ground, and there's none of the identification period of figuring out if you got something cool or not. Combine that with role specific and class specific legendaries that can completely change how you play the game and it's a mixed bag.
For example, I have two legendaries on my main — a DPS belt that causes Whirlwind to hit twice when there's more than three targets, and a tanking ring that resets Shield Wall with every Shield Block. The first problem is, of course, that I can't use them both at once and get the benefits of them because Protection doesn't even get Whirlwind and Fury/Arms don't have either Shield Wall or Shield Slam. The second problem is that they change how I play. This is especially true of the DPS belt, which makes Fury a lot more attractive because Whirlwind doesn't cost any rage if you're Fury.  I prefer Arms this expansion, but if I want to take full advantage of the belt, I run Fury.
For many classes, there are one or two Legendary drops that completely change the way the class plays and are almost must-have items, but you can't guarantee you'll get them. So I ask the question — did you? Did you get that one Legendary (or two) that you needed for best performance, or are you still waiting?