Cheerleader Kerrigan coming with Heroes of the Dorm bracket challenge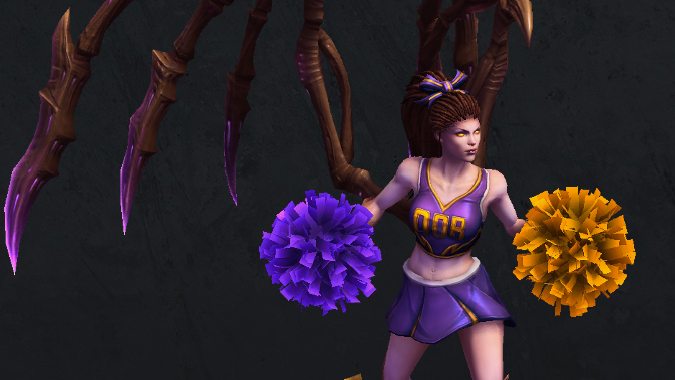 This Saturday the Heroes of the Dorm final bracket was revealed, along with some additional information about the event. Most important to the average player is the announcement of the legendary skin for the event: Cheerleader Kerrigan, featured in some of the original promo art, is confirmed to hit the Nexus soon.
Among the information was the location for the Heroic Four. If you'd like to see the flagship Heroes of the Storm esports event in person, you'd better pack your bags for Vegas! UNLV is hosting the LAN part of the competition. There are special packages for hotels, too.
As far as advice for filling out your bracket, beyond keeping an eye on the stats, make sure to look at the players too. While some players may have impressive KDA averages, the LAN experience of players like Yuuj on UTA or roflcopter on University of Tennessee can't be underestimated when it comes to the big event. I don't want to give away too many hot tips, though. The top 500 finishers in the bracket challenge win the Cheerleader Kerrigan bundle, featuring the skin, the hero, and the special 2017 banner mount, with the most winning bracket taking home $10,000.
The 64-team bracket play gets underway this Saturday, with the Heroic Four taking place April 8th. If you can't be there in person, you can watch the competition exclusively on Facebook Live.