The Queue: Surastars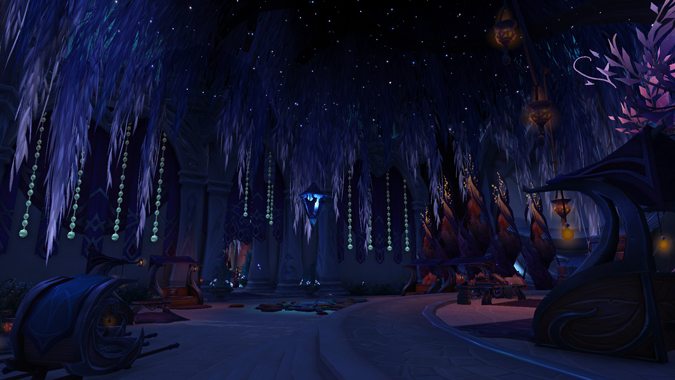 Welcome back to The Queue, our daily Q&A feature for all of Blizzard's games! Have a question for the Blizzard Watch staff? Leave it in the comments!
Suramar has some of the best lighting in game, but you don't really notice it — the Inky Black Potion very quickly solves that problem. I think my favorite part about this is that you can usually see sky in the middle of Suramar's trees — with the potion, it's turned into a canvas of stars.
---
SOEROAH ASKED:
Is there a hearthstone location in Vengeance Point?
Yes there is! Look for the level with all the tents — one of them is an inn. If you're having issues locating it, target Goya, an exceptionally Good Dog who is also parked right next to the Innkeeper for the region. And then give Goya all the petting you can spare for helping you out.
---
DOBABLO ASKED:
Q4tQ: Can I fly in an invasion scenario?
If it's like any other scenario we've ever done, the answer to that one is no — with the exception of the parts where the NPC shoves you on a mount with a pre-determined flight path to an upper level.
---
It's Un Gore-Oh. Pretty much exactly how it looks like it should be pronounced, thankfully! The trickiest pronunciations are usually things like Old Gods and their servants.
---
PUNTABLE ASKED:
Does anyone know a good "light source" your character can equip (transmog) for when using the Night time potions? I was using the Yangol Fire Carrier, but it's not very bright. Maybe something that would resemble a lantern light or a Ghandalf glowing staff?
There are a selection of good old fashioned offhand lanterns out there to choose from, starting with the Eerie Stable Lantern in Shadowfang Keep. Wowhead has a tab of other choices that have the same model — the lantern casts a really good glow. There are also a few staff models available with great glows — I had Soulkeeper way back in vanilla, and I always loved the glow from the thing. Similar fiery models include the Elemental Mage Staff (which is not restricted to Mages in any way), and the Staff of Hale Magefire.
---
LOTHARFOX ASKED:
On the Broken Shore, there are demon hunter murlocs. If murlocs can become demon hunters, can't other races? Barring that, can we get DH murlcos as a playable class/race combo?
Oh those aren't Demon Hunters, those are just demons. Murloc demons. Because your regular, run of the mill murloc wasn't bad enough. I feel like there's a joker somewhere in the Legion's ranks. I mean I doubt the Burning Legion has any major plans for their new allies — I think there's just one demon who went wandering around the Broken Shore and decided to pump the local murloc population full of fel to make our days extra interesting. And by "interesting" I mean "super annoying."
That's it for today's Queue — if you have any questions you'd like to see answered, be sure to leave them in the comments below!