Hearthstone's Naxxramas Adventure could be made available again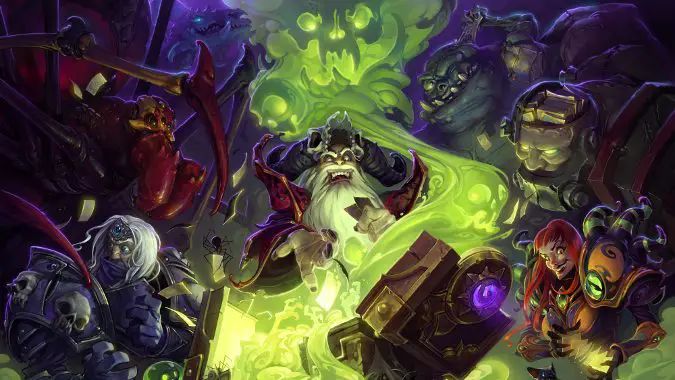 The Wild game mode in Hearthstone is more popular than ever — and receiving more support than ever from the developers. However, given the game mode allows you to use cards from all prior sets of Hearthstone, actually acquiring those cards can be a nuisance when old sets are no longer available for purchase and you need to rely entirely on dust. Adventure sets pose even more of a problem: Not only is it more difficult to acquire the cards, but you can't participate in the Adventure's boss fights and earn their associated cards at all. Such is the case with Naxxramas which disappeared from the Hearthstone store last year.
Fortunately, according to a tweet from Game Director Ben Brode, the developers are "working on a solution" to this problem.
We are working on a solution for this.

— Ben Brode (@bbrode) June 5, 2017
While no further details have yet been provided, it's a good sign for players who enjoy Wild. Compared to Standard, the sheer number of cards and sets in Wild provides a greater variety of play, which certainly has its allure. However, decisions like making the Naxxramas Adventure unavailable were made before the rise of Wild — and now that Wild has gained popularity, its developer support needs to rise to meet it. Certainly, we're interested to see how Naxxramas will make its comeback: Will they simply put it on the store again or bring it back another way? Given Year of the Mammoth appears to have discontinued Adventures altogether, it seems likely the developers might want to find alternate implementations for previous Adventures.
Then again, Hearthstone Lead Game Producer Yong Woo commented on this back in February of 2016 and was equally as vague about it.
@XcMtbGamer @LotiPodcast @PlayHearthstone @bdbrode we're excited to make use of that content in the future. Haven't decided on the details.

— Yong Woo 💙 (@ywoo_dev) February 5, 2016
While their difference in verbiage — haven't decided versus working on a solution — could point to something significant, it's just as likely it isn't significant at all. We'd hope they've made progress on this subject over the course of 16 months, but who knows?