What are your small annoyances in WoW?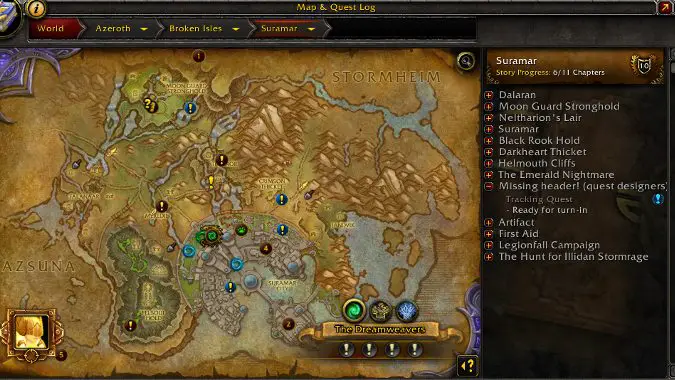 What annoys you in WoW? [Insert obligatory Artifact Power/Legendary response here.] Specifically, what are the little things that annoy you? Something that doesn't work as expected, behave as it should, or is just plain out of place. Something that makes you grumble, but you're still not likely to quit over.
For me, it's how the quest log functions. I try to stick with the base game UI as much as possible with few to no addons, but oh man, the default quest log drives me nuts. First, the existence of a cap on how many quests you can hold at once is a nuisance while leveling — especially in a nonlinear region such as the Broken Isles. The quest log doesn't even display the cap anymore! Sometimes, when you're forced to accept a quest, it doesn't count against the cap. Sometimes, it does. Or it doesn't until you've completed a different quest, and suddenly it counts. Further, when clicking on a quest in my list of tracked objective, its behavior is inconsistent: Sometimes it pulls up a full-screen map, and other times it pulls up a smaller map with the quest log attached. I have no idea what determines which map it opens. Sometimes it decides to simply change its mind with no input from me whatsoever.
I'm not a fan of the quest log being attached to the map, either. I don't recall which patch they implemented that change, but I've never gotten used to it. I'm not sure if I haven't gotten used to it due to years of the separate quest log being drilled into my head, or because it's just plain not-good.
You can right-click on a quest in your Objectives list to get a variety of options, but Share Quest is not among them. To share the quest, you need to click on it to open your map-cum-quest-log and, when in that menu, you get a completely different set of options which includes Share Quest. Despite ostensibly serving the same purpose, the Objectives tracker and the Quest Log provide totally different options and you need to memorize which is which.
Yes, this is a small thing and I'm making a mountain out of a molehill, but come on. It drives me up the wall. Whenever I want to share a quest, it takes me a minute to remember how to access the option.
Does anything bug you like this bugs me?