The Queue: Class mounts, bottlenecks, and the old guild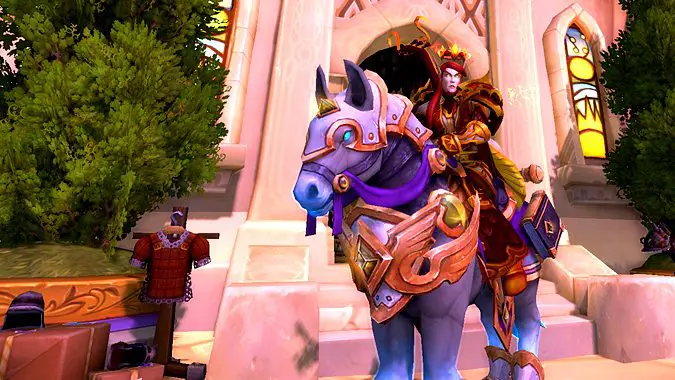 The last question in today's Queue got me going down memory lane… It was kind of dangerous. I'm now thinking of popping over to the server and saying hello to a few folks.
---
Well if you wanted a Mage mount, all you'd have to do is go get your flying disc from Mists of Pandaria.
That said I'd opt for the Warrior ones. All dragons are cool.
I'm going through the Paladin mount quest myself at the moment (again), but am stuck until I get a bit further into the Suramar chain. I recently leveled up my Ret Pally and have been having a blast. 100 to 104 was fine, but 105 to 110 flew threw in a day when I equipped all the heirlooms. Felt almost like cheating…
---
JS HAWK COMMENTED:
So, Early Access for FF14 began this weekend, and its experiencing a WoD Garrison startup style choke point. The quest is a solo instance, and as such its basically being overloaded…
The screenshot doesn't quite do it justice…
I have such a love/hate relationship with FFXIV. On one hand the story and the gameplay are great. On the other hand the story and the gameplay are just throwback to WoW of previous evolutions. I'm not really sure that making a game like that is the way to go.
FFXIV honestly feels to me like I'm playing Vanilla WoW again but with a group finder. That being said, I fully expect to get into this expansion after I've cooled on WoW again. I'm watching a bunch of folks on Twitter and they all seem to both love it and love-it-less; which is rather telling for that crowd.
But for now I'm content playing in Paladin land.
---
Yes
---
ARCHMAGE RC COMMENTED:
Just did the Razorgore fight post 7.2.5 and OMG that is waaaaaaay easier. I was able to do all eggs before the timer ran out
I am so glad to hear this. I know that they've made changes to BWL but I haven't been back in it yet. Why? Because that damned Razerogore is just some stupid roadblock I've never been able to get over.
It was like that in Vanilla WoW too — half the group got the fight, Elentari, Morlexis, Saire, and the other half (me) didn't. Thank god the 40-man raids disappeared.
… and now I'm thinking of old guild mates I haven't heard from in 8+ years.
That's all for today, folks! Please remember to leave your questions so we don't end up talking about Chili and Cheese (and or the aforementioned combination combined beautifully in a burrito).