Symmetra and Thor arm wrestle for Sombra's affections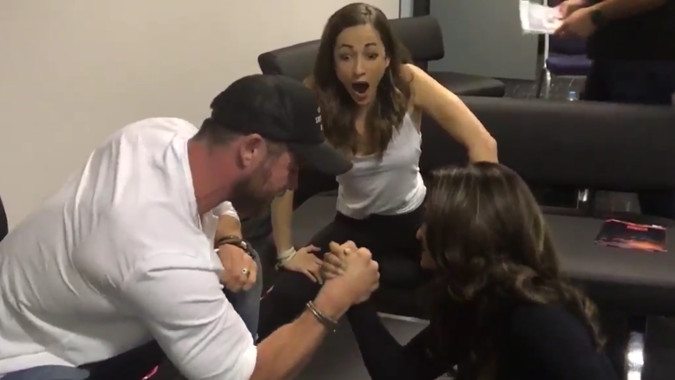 If you remember a while back we did a post about Overwatch's voice actors being kinda silly. Well, apparently the hits just keep coming and now they've dragged the Norse God of Thunder into it.
So, it happened: #Thor vs. #Symmetra, arm wrestling for Sombra's #boop. Tx @chrishemsworth @carolinaravassa @SupanovaExpo #sombra #gunshow pic.twitter.com/3tfpi6Xcih

— Anjali Bhimani (@sweeetanj) June 18, 2017
I think the fact that they go best two out of three is what makes this for me. Well, maybe that, and maybe Carolina Ravassa's Facebook feed which has fan art of the match, which is just great. I have so many questions about all of this — Does Chris Hemsworth (Thor) play Overwatch? Did he have any idea what was happening or is he just that good natured? Am I the only one who expected Anjali Bhimani to win this? She had a lot of determination going in, it seemed to me.
Still, in the end Thor got the boop. Would you have cheated? I bet you would have cheated.